Chafing in Crown Heights
mira, if you take the climate crisis too personally, you'll never be happy again. what white
women call climate grief, I call the ghosts of colonialism come to reclaim uninherited earth.
everybody's telling me how to react, but nobody's telling them how to act.
won't a blk drag queen tell you 'bout yourself, shadow & all, send you running home crying
to your momma about all that spoiled potential. all that summer stink oozing out open wounds.
tell the truth? I can't tell if I want to survive the event.
regardless, the event survives in me, my flesh an inalienable reminder of splendor, unearned.
I promise, I tried to be good but I suppose I done sweated out all the goodness in me.
From a six story walk up, On & On croons out an AC unit-less window, the world keeps turnin'
oh, what a day
what a day, what a day
Mz. Badu, I know you like your Black gxrls
quiet, legs closed but in this Crown Heights
smoke exhaust & wet air i've gotta spread
my thighs and let some coolness wipe me
clean, sponge the clock-spotless from
sweet and sticky summer steam
heat boasting, beautifully Black tender
niggas write sweat magick songs- decadent,
rolling love poems sent from sunbeams
sent from sunbeams
sent from sunbeams
Black as I am, what a day, what a day in me.
The Aftermath of Sugar
Let me tell you, dear reader
there is no such thing as a senseless tragedy
every cataclysm, never divinely ordained
orchestrated by history, and by history
made cyclical.
The first time the New World colonizers taste-
touched sugarcane, a thirst solidified insatiable
lust sullied by this voracious sugartooth
an empire built from sweetness, exploited
decomposed freshwater bodies into bare memory.
And now, when the air in South Bay
becomes sickly sweet poisoned with cane ash
the house on the hill pretends to know nothing of the aftermath of sugar
disregard the Glades, their pleasurepain souvenirs
uncontrol burned to liberate ambrose, and in the process
swallow the breath of babes Black as soil burdened by
overharvest. evidence of harm begrimed to neglect and
study "African genes," curious as to why we keep dying
dying
dead
coughing up dark lungs to
fuel & feud until even the light itself
no longer bears to shine on.
what mirror should be held, reflected, refracted to
elicit some narrow response?
if not in my backyard, whose?
watch how we, made unGoded by geography, send thoughts&prayers with
no reason to stop the bloodletting
let it all remain, sickly sweet poison
caramelized with its glorious stick.
@nbsp;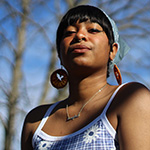 Ashia Ajani (they/she) is a Black storyteller and environmental educator originally from Denver, CO, Queen City of the Plains and the unceded territory of the Cheyenne, Ute, Arapahoe, and Comanche peoples. They are an inaugural 2022 Chrysalis Institute Milkweed Learning Hub Fellow. She is an environmental justice educator and coordinator with Mycelium Youth Network and co-poetry editor of The Hopper Literary Magazine. They have been published in Frontier Poetry, Hennepin Review, Exposition Review, Foglifter Press, them.us and Sierra Magazine, among others. Their debut poetry collection, Heirloom, is forthcoming spring 2023. Follow their work at ashiaajani.com.
&nbsp