Land Acknowledgement:
Eno
Miwko
Walli
Visual Poem #1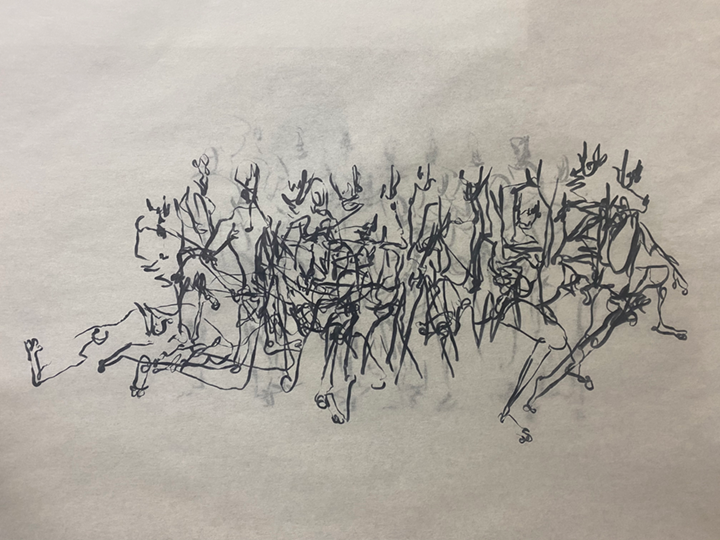 Moore, Maurice. "Sissy Dat Walk", Ink on Paper, 19in x 24in, 2021.
Become! Bout 50-11 figures fill the center of the picture plane. Some be crouching, others duck walking and given dat femme realness. The lines are sketchy and rough through de mid sections of the figures. The line weight is thicc, but thin scribbly line flows throughout most of the figures connecting de ancestors to their descendants. This werk is done on tracing paper with the opaqueness coming through in the center. The top left corner of the paper is ligt with the bottom left & right plus the top right corner being darker. There are maybe seven hazy figures located in de center of de paper and spreading out.
Visual Poem #2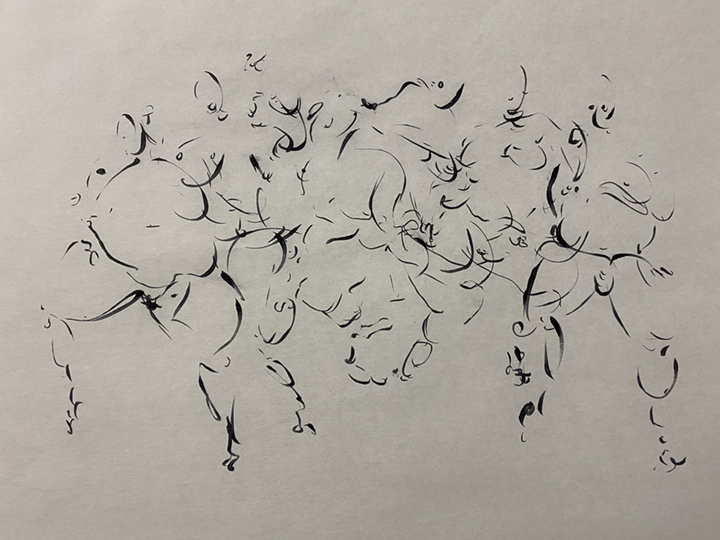 Moore, Maurice. "Venus of Willendorf (Yeah, Baby, She's Got It) (feat. Sarah Baartman, Martha Wash, Izora Armstead", Ink on Paper, 19in x 24in, 2021.
No, honey! Trust and believe dey all got it and then some! Six full figured Blackty Black Butch Queens are servin body fo dayz! Ain't nann one miss no meals, and dats jus the way we like it! Body, ody, ody, ody, ody, ody, ody, ody! Ain't dat what Meg say?! The piece was created using dat Drake light skint tracing paper. What about the line work you ask? Well, I thought it be thicc thighs save lives, but the way these contours lines are set up everybody is getting blessed today! Honey! Thick and thin black lines make up the faceless figures. These figures are given off sum major Venus of Willendorf vibes wit jus a touch of Sarah Baartman to boot. The figures take up most of the picture plane carful to not break the border. Not sure how to put dis, but the lines furthest out make the figures seem most rendered in a somewhat realist way, and as we focus our attentions toward the center of the picture plane the figures become mo abstract, and it's a bit harder to pick out where one figure begins and another ends. The four figures dat make up the the left and right side of the piece appear to be standing or maybe dey are suspended in a large body of water. The figures in the center of the piece; well the lines merge and sometimes they seem to be reclining while other times dey be seated. Hell, maybe they doin sum reverse cowgirl poses up in dis drawing. The hands and feet of the figures are very loose and drawn in a gestural like way. It appears dat de person making the marks was drawing the limbs to jus give the viewer a hint of hands and/or feet. Or maybe some of these beautiful figures are meant to represent disabled bodies possessing different types of limbs or no limbs at all. 3 Snaps! In the center there are three or four sections that are a bit smudged maybe a couple half inches apart. Lastly, I know we said dat the lines were Blackty, Black, black however after closer inspection some of the lines at different points in the piece are grayish. Particularly where the figures genital and maybe crises or folds be. I know I said lastly, but the nipples are jus a black dots. Some of the nipples are a contoured oval shaped.
Visual Poem #3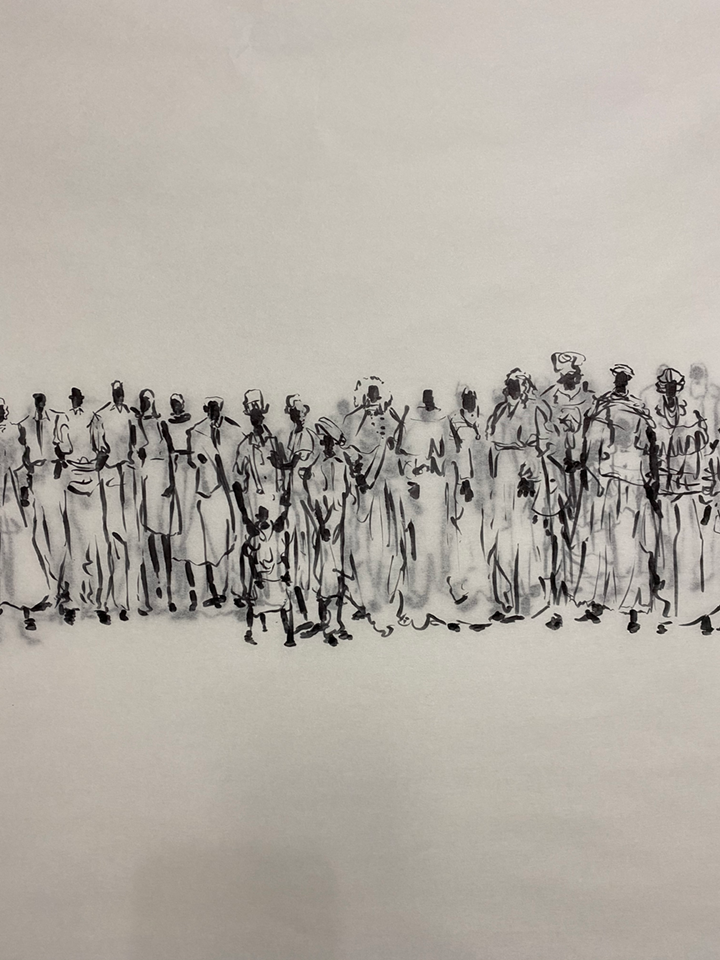 Moore, Maurice. "I Dreamed A Dream", 19in x 26in, Ink on Paper, 2021.
Would ya jus look at all dees beautiful ancestors gathered. All watching over us as they do! The piece was created on dat light skint tracing paper. I would say de image is presented wit de 26in" which is I guess the longways and the 19in" short side taking up de rest. Bout 24 or 27 figures are present and starting from de left going across the page are Black, Grayish contour lines. The figures attire is made up of people wearing wraps, skirts, cloaks, and a number to these folks have on headwraps. The figures faces, hands, and feet are completely black just like mine and yours.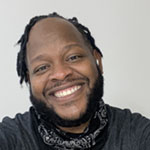 Maurice Moore is currently a doctoral Performance Studies Candidate at the University of California-Davis. Moore's works have appeared in Existere Journal, New World Theatre, bozalta Collective, Wicked Gay Ways, Queer Quarterly Magazine, Strukturriss, EX/POST MAGAZINE, Unlikely Stories Mark V, Decoded Pride, Confluence, Mollyhouse, and Communication and Critical Cultural/Studies. From 2011 to the present, the creative has exhibited at the Centre for Recent Drawing (C4RD) in London United Kingdom, Calabar Gallery in New York NY, Medford Arts Center in New Jersey, Christina Ray Gallery in Soho New York, and the Weatherspoon Art Museum in Greensboro North Carolina.
&nbsp