from Hecatombe à Diane
61
If those are damned who, in their hopelessness,
Fall conquered on their own bloody daggers,
If you can be damned by your own despair,
The overindulgence of suicide –
Am I, then, not damned against my conscience
By thirsting for poison, founding my hopes
On quicksand? Ha! How could there be any
Worse damnation or harsher sentence than this?
Why should a despised man fear his last day?
Who fears Minos as judge after unjust Love?
Hated, scorned as I am, why should I fear
A boulder, a mountain, a cruel vulture
After Love's torment? I die to be soothed –
I choose the lesser of two afflictions.
67
Imposters who preach that our souls, when placed
In bodies by our father's hand, received
The choice to do good and turn from evil,
And that Heaven granted our souls free will –
If you hypocrites tested this fire
Which divorces my will and my pleasure,
Makes me hate my good and adore my ill,
And will what I must, unable to will –
You'd know that the soul follows its senses.
I became the proof, when Diana's eyes
Changed my will so that it wills only love.
My will does not deserve to be called "will" –
I don't want to love, but I love the day
When I lost my choice, my soul, my free will.
74
Those who mortify their innocent backs,
Brave to a fault, self-destructively bold,
Tormented by sin and the vicious blows
Which return to gnaw at their harsh resolve –
Their passion is like the madness of Love.
No less than they do, I punish myself;
They hope to earn righteousness with their blows,
I seek to buy happiness with my pain.
Their pity is lost to hypocrite zeal,
And I'm pitiless in my pointless love.
They lament their ills, I sing my sorrows –
But they repent enormous misdeeds.
In this respect alone, our ills differ:
I'm martyred for doing nothing at all.
Translator's Note:
Exiled from his homeland, the poet Agrippa d'Aubigné fled to Geneva, the birthplace of Calvinism. There, he completed Les Tragiques, a verse epic cataloguing, in a dizzying sequence of allegories, historical accounts, and apocalyptic predictions, the horrors of the French Wars of Religion. His public face was that of a staunch Protestant, a man who gave everything and lost much in a lifetime spent trying to break the grip of the Catholic Church. In private, however, the soldier-poet was revisiting manuscripts he wrote decades prior, in a genre abhorred by Calvinist thinkers: love lyric.
In the collection called Les Printemps, never published during his lifetime, d'Aubigné relates, in vivid and frequently gruesome terms, his ill-fated but passionate love for Diana Salviati, a Catholic woman. According to d'Aubignê's own account of their relationship, which appears in his memoir, Sa Vie à Ses Enfants, this unlikely couple became engaged during a brief detente in the religious tensions which had divided France since 1562. In 1572, however, all hope of reuniting a fractured people vanished: after Catholics and Protestants alike flocked to Paris to attend the wedding of the Catholic Margaret of Valois to the Protestant Henri of Navarre, an attempt to assassinate Huguenot leader Gaspard de Coligny sparked horrific mass violence throughout Paris and the surrounding provinces, lasting several weeks and costing thousands of lives. After this, it seems, the marriage of an Italian Catholic to a Calvinist militant became unthinkable.
Devastated by the broken engagement, d'Aubigné fell into a period of illness and despair, during which Les Printemps was composed. The collection has three parts: Stances, Odes, and the Hécatombe à Diane, a sonnet sequence. Although these poems do not allude explicitly to the historical circumstances surrounding their composition, they are saturated with imagery of civil war, captivity, torture, exile, execution, and mob violence. In sonnet 8, for example, D'Aubigné imagines the anguish of love as a civil war between Love and Fortune, in which he is both trophy and battlefield.
The three poems presented here are particularly interesting examples of religious conflict translated into love lyric. In each of these sonnets, d'Aubigné takes up a point of Catholic doctrine and offers a scathing rebuttal. These refutations base themselves on the poet's experience of romantic torment rather than the theological reasoning of Calvinist doctrine. Sonnet 61, for example, takes up the traditional notion that those who die by suicide are condemned after death, pointing out that the poet's self-destructive love amounts to a kind of living hell to which damnation would be preferable. In sonnet 67, d'Aubigné offers his own uncontrollable desire as evidence to contradict an argument for free will. His assertion that "the soul follows its senses," is a fascinatingly unorthodox echo of the Calvinist notion of predestination: it is not God who renders the human will powerless, but Diana.
Sonnet 74, perhaps my favorite of the three, compares the poet's self-destructive passion to the Catholic practice of self-flagellation. It ends with a brilliantly ironic innuendo: while the Catholic penitents actually have committed the sins they punish themselves for, d'Aubigné, unable to consummate his love, is "martyred for doing nothing."
In my translations, I have aimed to be faithful to the vigor of the poems above all, the sense of explosive intensity created when powerful emotion is condensed into the tight container of the sonnet form. To that end, I have prioritized the rhythm and structure of the sonnet rather than word-for-word or line-for-line equivalence, understanding that to neglect the formal coherence of these poems would be to sacrifice their hurtling momentum, the palpable sense of uncontrollable, paradoxical, self-destructive passion which makes them intensely alive for our place, our time, and our language.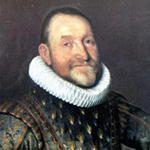 Agrippa d'Aubigné (1552-1630) dedicated his life to advancing the Protestant cause in war-torn Reformation Europe, enlisting in de Condé's Huguenot army as a teenager. He is the author of numerous works of anti-Catholic polemic in an impressive variety of genres, including Les Tragiques, a seven-part verse epic cataloguing the horrors of the French Religious Wars. D'Aubigné was exiled from France in 1610 and died in Geneva at the age of 81. Les Printemps, the collection of love lyric containing the Hécatombe à Diane, was not published during d'Aubigné's lifetime, although the manuscripts show that he continued to revise those poems until his death.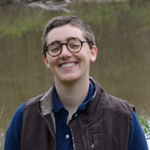 Jacob Romm is a writer and translator living in the Hudson Valley. Romm graduated from Yale with a BA in Comparative Literature in 2018, and will begin doctoral studies at the same institution beginning in the fall of 2021. They translate from French, Yiddish, Hebrew and Ancient Greek, and their work, both translations and original poetry, has appeared in Phoebe, Inventory, the Yale Lit, the Journal of Literary Translation, and Br!nk. Romm is also the author and designer of a limited edition artist's book, Entries on Eden, created in collaboration with the photographer Tanya Marcuse.
&nbsp