Duracell
Cockroaches survived, of course, together with a few humans
who wore fluorescent soccer tops and commemorative sweaters
proclaiming: Class of 2021, Class of 2023, Class of 2019 – the
names listed as on a cenotaph.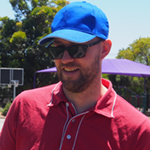 Aidan Coleman has published three collections of poetry and his work has been shortlisted for national book awards in Australia. His poems have appeared in Best Australian Poems, Poetry Ireland Review, Glasgow Review of Books, Hampden-Sydney Poetry Review, and Virginia Quarterly Review among others. Aidan is an Early Career Researcher at the J.M. Coetzee Centre for Creative Practice at the University of Adelaide.
&nbsp