closeted diaries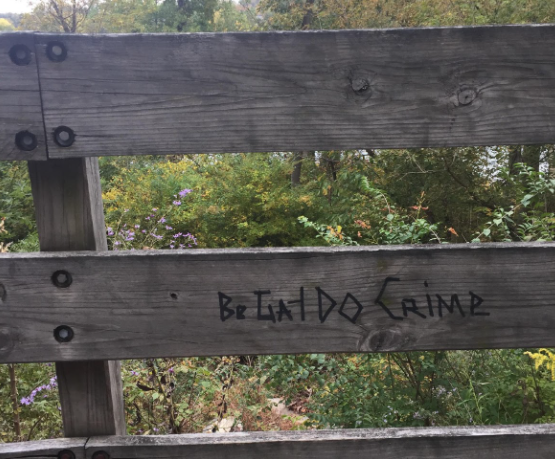 The New York Times documentary series is on.
I angle toward the handsome, weary ICU doctors on the screen in a sort of reverence for information, though I am directly focused on the MacBook in front of me, which I purchased when I was eighteen after working at a fundamentalist Christian camp the whole summer.
I designed and taught an entire arts curriculum.
I played the Moana soundtrack 232 times.
In return, they paid me 2,000 dollars and fed me grilled cheese with curly fries every day at 12:30 PM.
This was when I loved god.
O The shit I did for him.
Earlier I walk by a Methodist church that has a Pride flag staked very intentionally near the red painted doors, which seem characteristically heavy, probably a metaphorical nod to how narrow that narrow path really is.
Mifflin Ave.
This street is near my street, but it's more luxurious—paved with artfully lopped bricks and populated with those tiny libraries that only ever contain obscure parenting books, Dr. Phil and/or Oz, John Grisham.
Once I found Vonnegut (Breakfast of Champions) hiding in the South Bend neighborhood of Rochester, New York.
My next action was to eat vegan chicken nuggets on my vegan ex-boyfriend's porch and read it in its entirety.
We weren't very conversational at that point.
I slathered the tasteless meat bunches in Frank's hot sauce. This caused a fight, which pointed to something else.
Fights, and vegans, tend to do that.
When I walk by the church doors I think I feel a pull.
The pull is followed by horror.
A sequence of feelings that are really just reactions to feelings.
I used to associate this pull with "god working in mysterious ways," something a girl about my age said in the Trader Joe's line the other day. Upon hearing this I whispered "god isn't real" to myself beneath my mask. I don't know why I did this. I texted B about it as an act of documentation.
I conclude that the pull is loneliness.
I scale the perimeter of the building and try to look in the windows but everything is a bit obscured by the age of the glass.
I imagine a past self standing in the outdoor chapel at Christ the King, slapping mosquitoes between chutes of stubble on my legs.
Candles in their praise stance. Singing hymns. Singing "as the deer pant-eth for the water, so my soul thirst-eth after you."
Meaning it.
Or at least absorbing the momentum of everyone else meaning it, all of us pooling together in some primordial praise swamp.
I felt like a happy fraction then.
Arms up & floating toward a whole.
I don't pray anymore, but I think pointedly.
I think, big-G-God, if you want me to think about you again, send someone out to pray for me.
Big fucking dummy.
However, as I think this I am walking away already, smug as ever, heading down the brick-paved back alley that is called "Virgil Way."
This reminds me of Dante.
In reality it's just where rich people put their trash.
I scroll thru Instagram when I get home.
I repost a stylish quote that exclaims, in sleek rainbow text, "queer people in straight-passing relationships are still queer" and another one that says "bisexual people are still bisexual no matter who they date" and finally "gender is a social construct."
I think about my big-B-Boyfriend and what he thinks of this.
The first person I told I was queer was myself, and then no one again until God died for me.
I was ten and Leah (gay now, go figure) was very, very pretty.

I whispered, "I am bisexual" into my book (probably The Giver, which my teacher made my mom sign a permission slip for me to read) during independent reading time because apparently that's something I do when I need (want? know?) things to be true.
A text from B—he sends a 37 second audio message explaining that, remember in the beginning of quarantine, when we'd call like every day, and it was nice but then we decided we don't have to do that, and though he loves talking to me he kind of just wants to watch a movie and read tonight, and that he wanted to be open and honest and direct in communicating because that's what good couples do and he hopes that's ok.

The pull incident has made me feel more solemn and interior than usual, so I am grateful.
I make a cocktail with bourbon called AMERICAN HONEY (which is good but twenty dollars) and apple cider I mulled with nutmeg and cinnamon sticks.
I think about the Queer identity.
I think about god I guess.
I think about how irritating it is that I fear being uninteresting.

I wonder if I'm really, truly, actually known or if what is seen, what B sees, what god (?) sees, is simply a straight performance of me that I cannot keep up.
Drink up, kiddo, there's a whole life of this.
The New York Times reporters are good, passive company.
They flicker between shots of trees and cars and hospitals and New York City, bringing light to my living room, which, despite my best efforts, tends toward a certain darkness.
The television is a TCL 32-incher, which is almost the size of a classic dick joke six times over. I got it, in essence, from my grandfather—a homophobic, supercilious, toupee-wearing alcoholic.
He's a retired State Supreme Court justice.
I didn't know his name was "Hugh" until I was eleven, because we always called him Grandpa Judge.
Regardless, he's rich as balls, dying of metastatic colon cancer, and has always been an erratic but lavish gift-giver.
For Christmas last year he gave me a 1000 dollar check folded into a glass ornament, and a purple Vera Wang towel (which, now stained with Garnier Strawberry Jam hair dye, hangs on my bathroom door).
A few months ago, for absolutely no reason, he gave me 3 Amazon gift cards, each 50 dollars.
I sent him a thank you card.
I thought, sorry I won't see you before you die.
I bought the TCL 32-inch television.
It arrived in 2 days, as expected.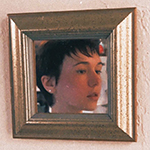 grace (ge) gilbert's recent micro, poetics, & lyric essays can/will be found in the Adroit Journal, Hobart, Ninth Letter, Pithead Chapel, the Offing, the minnesota review, Gargoyle, DIALOGIST, the Penn Review, Maudlin House, and others. Their digital micro-chap, no sharp things can be found in NAILED. They are an MFA candidate at the University of Pittsburgh where they consume unholy amounts of cheese and dumplings. Peruse their work on their website— gracegegilbert.com, or follow them on Twitter @geg2us.
&nbsp