The Road to Nebraska
My first days in the world were marked by an inability to decide on the question of whether to live. My body, as if it were controlled by a yearning desire for twilight, repeatedly suffered many and varied illnesses, and was like someone whose soul cleaveth to the dust. My own desire was insufficiently distinct, and it was only years later that I felt that life is no more than a habit. But I was too impatient to wait, and at the age of one I opened my mouth and said that it seemed I would go to Nebraska. My parents were surprised by the timing, and insisted that because of my young age it was impossible to comprehend my words. The compromise imposed on me compelled me to raise my hand as if asking permission to speak. I therefore raised my hand and repeated what I had said. It seems that I will go to Nebraska, I said, and my mother said that for boys of one year old it's early to go to Nebraska, and my father said, But still, if you're going, and at this age, if you're going, Nebraska would be preferable, and immediately sank into thought, and surfacing in his thoughts were fragments of syllables and place names like Texas and Nevada, and eventually—Las Vegas! Rage stood in his eyes, and my uncle, Father's brother, expounded on the wonders of Nebraska as he'd read in the tour magazine, that it is a lovely country with the sound of joy in the streets and the people's teeth are as white as ivory when they smile. And my mother put a frightened hand to her mouth, for where could a helmet for such a small boy be found, since she presumed that I would be going to Nebraska on my bicycle, and from between the pages of the magazine my uncle shouted, Hallelujah! because the weatherman had announced that fine days were forecast for Nebraska, where the sun was always shining. And that's a good reason, he added importantly, and my father, whose thoughts hovered in the room, said triumphantly, Nebraska, Nebraska, and his eyes sparkled.
A helmet was finally found for me. It was a yellow fireman's hat, and my father, from the depths of his wanderings, murmured coquettishly, A fireman's hat, a lifesaver's hat, it will protect us… and after short pause summarized: Long life and happiness! I embarked on my journey with great ceremony, my bicycle clattering slowly on its innumerable wheels and the rattle of the rims silenced the weeping of those left behind. I took to the road and a great belief filled my soul. But when I got to Nebraska I was already old, and the belief in my heart was extinguished. My childhood illnesses were replaced by the ravages of time, the blotches of rubella by age spots. Again the body hesitates—To live? To die? And around me Nebraska, a dust-laden desert… yes, the sky is blue and the people's teeth are white as ivory when they smile… but nobody smiles in Nebraska lest his mouth fill with dust! Ha! Why the hell Nebraska, I shout, and you, why are you looking at me like that? Have you never seen an old man in a yellow fireman's helmet on a child's bicycle…? And I hum to myself: A fireman's hat, a lifesaver's hat, it will take us, and afterwards… Hop!
Author's Note:
This short story was brewed in me while taking a long walk in Tel-Aviv, a few years ago. It started almost simultaneously with two sentences, the opening sentence and the one near the end of the story, which was translated to "I was already old, and the belief in my heart was extinguished" (in Hebrew it is merely a four word sentence). Quickly the two ends moved toward each other and the other details arranged around them. And when I got home I just had to write the complete story down. I sent it to Tony, who had translated a few of my stories before and I really admire his work. I think he did a beautiful job here too. He lived in the north of Israel, a few hours drive from Tel-Aviv. We spoke on the phone and corresponded by emails, but never met in person. For a long time I was planning to drive up north to visit him, but never did. He passed away in 2018.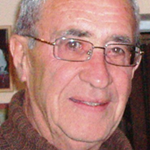 Anthony Berris was born in the United Kingdom and lived in Israel for most of his adult life. He was a translator and editor.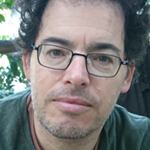 Yoram Naslavsky is the author of two collections of short stories published in Hebrew: In the Sight of This Sun (2009) and A Man on a Bench (2019). His stories have been published in various literary journals in English and Hebrew.
&nbsp