Untitled 1-5
i am twenty-six.
i have not bled in two years.
do i accrue interest?
very well then i accrue interest
(i am sweat
equity, i am
sunk cost fallacy)
a prolonged inability to hold (others):
unable to hold (physically) (others):
unable to (say i cannot) hold:
(to others) i cannot hold:
devastate: to preamble
devastate: to carry a fire which, according to witnesses, has already been "put out"
devastate: to weave blood with the skin of one's fingers
devastate: to be on the point of devastation
devastate: to be at least or minimally impacted
devastate: to declare insufficient proof
devastate: to possess the body-miracle, "I can't keep living like this"
devastate: to strum high and once, "I don't want to live anymore"
devastate: to unname a flood
devastate: to quiet an empty room
devastate: to exercise one's domestic right to
devastate: to return
i apologize to all
the orchestras, i
cannot be held in
the suspense of
others, so little
demands so
much, narrate the
day something like
how i've seen it:
now / now / now /
now /wait / now /
now / now /
disarmed &
coffined
with savory
togetherness
i annihilate
my future
children

the fumes
waning

i don't want
to find another
blooming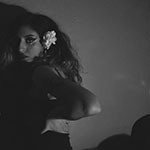 Jacq Greyja is the author of the poetry chapbook Greater Grave (The Operating System, 2018). Their poetry has appeared in Bettering American Poetry, Columbia Poetry Review, Berkeley Poetry Review, Apogee, Hold: A Journal, Dream Pop Journal, Peach Mag, and elsewhere. Their poetry and collage pieces have exhibited at The Berkeley Art Museum & Pacific Film Archive and Bushel Collective. Jacq is a William Dickey Poetry Fellow and current MFA candidate in Creative Writing at San Francisco State University. They live and work in Berkeley. More about Jacq can be found at greyja.com.
&nbsp