Anne Teaches Me About Desire
The first time I read Anne's diary is the first time I meet myself.
If only I could have a girlfriend! she writes,
daring to place an exclamation mark after the sentence,
daring to write the sentence at all,
and it's as if I'm writing in my own diary, admitting
the words I am too afraid to put down on paper,
lest they be read by the whole world one day.
The first time I read Anne's diary is also the last time
I ever name this desire in myself for, soon after,
I hear my mom and her friend
speak in a concerned tone about Anne
—specifically the things she wants to do with boys
and girls with her body; soon after, I am made
fun of by the boys in my 6th grade class for loving
a book about a "lesbian," and I'm not sure
what that word means, but I know what it sounds like,
so I turn my obsession to the Holocaust, no less strange,
I realize now. Alone in my room, I spend hours studying
our contours: our frizzy hair, our nose, our eyes,
tilting my head the way she tilts her head when she smiles.
You see: I'm falling in love with myself through Anne.
I will spend my life studying the history of erasure
omitting my revelation the way her father did
—the way my father will do for me—
in a feverish attempt
to hide my own history.
Aubade After the Resurrection
In Nyamata and Ntarama, churches 
left intact as tombs: banquets
of blood swollen from witness,
rosaries rubbed raw from terror,
ID cards seared as scripture,
sticks the size of my body
used to mutilate the mothers,
matted, soiled clothes
on pews await
one last homily.
Through grenade-studded doors laughter
from school children reverberates
off walls stained with their relatives.

By the altar splayed with machetes,
the stone eyes of a poor village girl
once forced to bear a savior.
In the crypts, kidnapped earth
stares back and I am filled
with the desire to touch
their faces. So infinite.
Thousands of years away,
the crucified carpenter holds
out his nail-shaped palms
to his doubtful friend:
Reach here and touch
the reality of my being.
The thing about genocide is
even when there is proof
it is still impossible
to believe.
I MISTAKE THE KINYARWANDAN PHRASE FOR ARE YOU CRAZY WITH ARE YOU FARTING. BOTH ARE QUESTIONS I ASK MYSELF TOO OFTEN.
For this story to make sense, you must understand we thought we were being told the truth. You know this fable as well as I do: white men gather the people they displaced for a feast and call the feast, gratitude. The white man who sold this origin story declares slavery gone and, like magic, all is forgiven and he is the hero. The mapmaker's logic is no different here: All roads lead to the road that was erased. Of course we believed them when they told us the only proof we needed were the bodies at our feet. Who were we to challenge the dead? You must understand the dead make death look so easy. I'll admit, I was jealous of their stillness. So much so I didn't know if I would ever learn to speak of the living again. It doesn't take much to mistake battle cries for reconciliation. The bread and wine in your hands for the Son of God. There is a word in these hills for people like me: abasazi. The foolish. Those who speak out because they have lost their minds and have nothing else to lose. You see, in the Land of a Thousand Hills, even farting during the king's coronation can sound like a rebellion song.
UPON HAVING SEX FOR THE FIRST TIME AT A PEACE NGO IN TEL AVIV, I ACCIDENTALLY TAKE MY WALK OF SHAME VIA APARTHEID BUS AND END UP IN AN ISRAELI SETTLEMENT CALLED NAZARETH ILLIT.
Catholic Girl attempts to escape
Catholic Guilt by losing
her virginity in her Lord
and Savior's Homeland,
believing this will cure
a decade of repression
only to find lustful
knee-brushing
over injera,
stripping naked,
and fucking
(a generous term)
in a conference room
dedicated to peace,
that is, maintaining
the status quo,
brings no reprieve
—or, why else
would she write
this poem
as penance.
THE PRAYER OF ST. FRANCIS (REVISED)
make me an instrument of rebellions.
where there is hatred, a birthday party where all my friends are friends with each other.
where there is injury, a wedding with motown's greatest hits and whitney houston on repeat.
where there is doubt, makeout sessions upon makeout sessions upon makeout sessions.
where there is despair, a lifetime supply of cheese and ice cream that doesn't give me the shits.
where there is darkness, a shadow cast rendition of les miserables starring my family. 
where there is sadness, every cherry blossom catching golden-hour selfie light.  
grant that i might receive as much head as i give.
grant that i may not seek to be so presumptuous as to think i'll always get laid. 
grant that in dying we are born, not to another checkpoint or prison,
but a heaven with a group text that never feels overwhelming,
a netflix that never asks us if we want to keep watching,
every land finally a holy land, every body finally a birthright.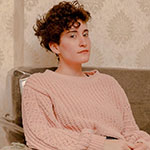 Gabrielle Spear is a poet and educator living in New York City and raised in Northwest Arkansas. She has received support from Goucher College's Kratz Summer Writing Fellowship, Brooklyn Poets, and Catapult. In 2017, she was named a finalist in LUMINA's Borders and Boundaries Nonfiction Contest judged by Leslie Jamison. Her work has appeared or is forthcoming in fields, Sonora Review, Matador Review, Glass, and other publications. You can follow her on Twitter @gabsters93 and on Instagram @verycuteasparagus.
&nbsp