Two in the street
as a finale he threw a chair into the middle of the dive,
he wanted to throw two, but they held him down.
it was a cheesy, faceless dive, a Pepsi-ad color eclectic poverty,
at dawn blue and shit colored flowers bloom at the edge of the city.
of course, they were standing on their two legs pushing each other the way they played with their dump-trucks, ragdolls and pillow cases in their childhood, and later with the thrown out clothes of their lovers.
but now they are in the Villonesque loathsomeness, ready to steal and destroy.
at night they eat the moon, fried eggs they say, it's enough for them.
fuck reality but mix the moon with hard liquor.
street smelling incense, mint cigarette that they bite, tear and rip
they cannot compare the stars, become uneasy, start scratching,
the stars are scratched out pimples on our bodies they say, and calm down a bit.
they sit in a box at Gajdos', feeling cold already gobbled the moon up, need something solid.
they stand up swaying like trees in the wind, they're bony, their skins hang on them like stretched t-shirts, yet it's starry they say then drop, their skin turns to urine and vomit like gooey substance.
they have their own table in their dreams, they're free to take.
their blouse and shirts are ironed, their jeans are clean, their shoes are shining
there is a roof above their heads, simple small rooms and everyone minds their own business, things only they know, aren't drunk, clinking their tall glasses
because there is some kind of holiday or other good happening or just because.
two persons in the street, both easily transplantable, lie on a kind of asphalt rug
going wild like grown children and know that they are only similes and metaphors.
they get up, cut the throat of reality, get disguised,
walk in blue and shit colored eclectic poverty, in the gypsy row, and then they put all of it in writing.
immortality
dad is a shell
mom is a fuzzy heart root
when the rain comes, we drench together
when the sun shines we are together
in the light
sometimes I bury them in the woods
to save them from trouble
I call them to hold hands and
whisper into each other's ears
dad and mom are whispering
earth is guarding them
we practice resurrection
they come out of the ground
wash their bodies
dress up and go to work
they call me Sunday saying
lunch is ready for Wednesday
they ask if I have anything to eat
then I invite them to the woods again
they say it's awkward for them
but they will do it if I want to
Translators' note:
Zsuka Nagy's idiosyncrasy is apparent in her free verse, where form is determined by the dynamics of strong emotions, lightened by a whimsical rhyme here and there. Her poems stand out for their bravery and vocabulary, even in a contemporary environment with fewer taboos, and for their unflinching take on the great themes: love, family, illness, poverty, rural life, old age, and death. A major motif in her work is the attention given to people living on the periphery of the mainstream. Her poems are at once intense and gentle, sometimes coarse, mixing everyday speech with lyrical imagery. Pigment, her third and most recent book of poetry, was published in 2018.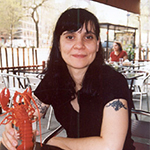 Terri Carrion was conceived in Venezuela and born in New York to a Galician mother and Cuban father. Her work has appeared and disappeared in print and online. She is co-founder of the global grassroots movement 100 Thousand Poets for Change.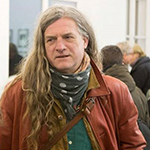 Gabor G Gyukics, a poet and translator from Budapest, is the author of eleven books of original poetry; six in Hungarian, two in English, one in Arabic, one in Bulgarian, one in Czech. He is the translator of eleven books including A Transparent Lion, selected poetry of Attila József, and Swimming in the Ground: Contemporary Hungarian Poetry (in English, both with co-translator Michael Castro) and an anthology of North American Indigenous poets translated into Hungarian under the title Medvefelhő a város felett.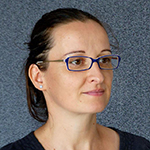 Zsuka Nagy was born in 1977 in Nyíregyháza, Hungary and is a poet, writer, teacher, and the author of four collections of poetry. She lives and works as a teacher in Nyíregyháza. She likes poetic images just as she likes riding her bicycle which she calls Rozi. She is the recipient of several prizes.
&nbsp