Divergence
Toss a coin.
If it's heads,
take the path
with the gnarled trees
and faint buzzing
of something coming alive.
Tails, take the one
that's half concrete,
half wasteland.
If neither appears,
take a gambit.
Virginity
Somebody told me giant flowers bloom at this one place
but don't take my word for it—I mean, I hear they can reach
and kiss stars and never burn or wither.
I wouldn't know; I've never traveled on my own before.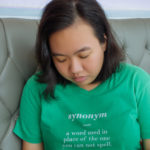 Saquina Karla C. Guiam is a Best of the Net-nominated poet. Her work has appeared in Outlook Springs, the Philippine Speculative Fiction volume 11, Augur Mag, Glass: A Journal of Poetry, and others. She is currently finishing her Master's degree in English at Ateneo de Davao University.
&nbsp