Silencing Schemes: Notes on the Philippine Art Scene in the Face of Fascism 
Recently, the National Commission for Culture and the Arts (NCCA) and the Cultural Center of the Philippines (CCP) released the call for nominations for the Order of National Artists, the highest recognition given to Filipino individuals "who have made significant contributions to the development of Philippine Arts."
A few weeks before this call, F. Sionil Jose's articles in Hindsight [1], his column for the Philippine Star, drew widespread condemnation for justifying the state-sponsored closure of ABS-CBN, the largest broadcast network in the Philippines, and the cyberlibel conviction of Maria Ressa, Chief Executive Officer of Rappler, a leading online media outfit. Like the avid supporters of President Duterte, he refused to acknowledge that these two cases are attacks on press freedom. It should be emphasized that F. Sionil Jose is a National Artist for Literature.
These incidents offer a glimpse into how Filipino artists have been grappling and perhaps could grapple with the present-day challenges to art-making.
Faced with the COVID-19 pandemic's lockdown regulations and other mobility restrictions, many Filipino artists have turned mostly to digital platforms, sometimes as a means for survival. Performances, workshops, and even exhibits nowadays are produced and conducted for online audiences. Though the quality of engagements is arguably lower than what was possible before the pandemic, this compromise in platform has at least enabled the continuation of artistic initiatives.
But should Filipino artists settle for just continuing their pre-pandemic initiatives and concerns when the worst danger to art-making is not COVID-19?
While the NCCA has provided—after much pressure from the community—modest financial assistance to a number of artists rendered jobless by the pandemic, its call for nominations for the Order of National Artists, among other business-as-usual endeavors in the middle of a serious health crisis, signifies apathy for far more urgent issues, including the Duterte administration's sustained and sweeping attacks on press freedom and free expression—basic rights that make artistic expression possible in the first place.
Attacks
Under the Duterte government, artists and creatives, media practitioners, and the people as a whole suffer different kinds of silencing schemes especially in the midst of this pandemic. Since the beginning of the world's longest lockdown, dozens of ordinary Filipinos have each received a subpoena from the National Bureau of Investigation (NBI) for simply taking issue with the Duterte government's incompetence and expressing their displeasure on their social media accounts [2]. One of the subpoenaed individuals is a student, who allegedly posted distasteful remarks against Bong Go, Duterte's Man-Friday-turned-Senator. Others, however, weren't as lucky to get subpoenaed as they were illegally arrested. Two teachers had been illegally arrested. And so was Cebu-based artist Bambi Beltran for her sarcastic post on Facebook.
Meanwhile, major media outfits have not been the only target of silencing schemes by the Duterte government. In fact, attacks on ABS-CBN and Rappler are only magnified—in terms of media coverage—versions of the exact same attacks happening to alternative media for some time. On July 26, copies of Pinoy Weekly, an alternative publication, were seized by state forces in Pandi, Bulacan for alleged subversion [3]. In February, Frenchie Mae Cumpio of Eastern Vista, an alternative media outfit in Tacloban, was arrested for reporting about human rights violations and other military abuses in peasant communities [4].
Even films became subject to silencing schemes. Three weeks prior to the opening of the "film festival that aims to support local independent cinema," Sinag Maynila disqualified Jay Altajeros' Walang Kasarian ang Digmang Bayan (The Revolution Knows No Gender) for its alleged deviation from the original script.
Exposing the atrocities of the Duterte government through following the lives of a nun, an activist, a striking worker, and a documentarist slaughtered by the military, Digmang Bayan dares to speak out: "Ako mismo ang papatay kay Duterte!" ("I will kill Duterte myself!") says the character played by the actress Rita Avila in the film.
The filmmaker Brillante Mendoza, Sinag Maynila Founder and Duterte supporter, offered no explanation on the disqualification. Why would he need to when his political stance, most apparent in his film Mindanao (2019), where military men are depicted as heroes, [5] has also been exhibited twice when he himself directed two of Duterte's State of the Nation Address (SONA)?
Mostly experienced by counterculture artists seeking further accessibility, exclusion or gatekeeping usually happens in institutionalized platforms like Sinag Maynila. It is not unusual for these platforms to be run by established artists upholding some kind of prestige, ideology, and in Mendoza's case, power, that they don't want to share with other creators, especially nonconforming ones. If Digmang Bayan's exclusion says something about artistic practices in the Philippines, that would be the necessity of more independent productions and further empowerment of artists to make these independent productions happen.
Not all silencing schemes are direct. Some can appear in the form of prestige.
Parasite, a 2019 Korean film exposing the tumultuousness of the gap between a wealthy and an impoverished family, is one example. By bagging a back-to-back Oscars win as Best Foreign Language Film and Best Picture, the film succumbs to silencing through co-optation, a common defeat for artistic productions banking heavily on content to assert relevance. One could only imagine the irony of a film—supposedly carrying a powerful social commentary—being bestowed a "historic award" by a body that brazenly splurges for a one-night ceremony; WalletHub, as mentioned in Forbes, reported that the 2020 Oscars had cost $44 million [6].
The sheer number of Filipino filmmakers hailing the win did not come as a surprise. As creators who have to rely heavily on prestige so their productions could reach a wider audience, Filipino filmmakers had to pander to entities like the Oscars which, in validating artistic productions, is actually co-opting their relevance.
Aestheticism is another form of silencing. The silencing in this case more acutely manifests as it comes more from the artist and not from award-giving bodies. In Art Fair Philippines, heralding itself as "the premier platform for the best in modern and contemporary visual art," featured Dukot Survival, Manny Montelibano's glass-encased installation of burnt rice decked with small plastic human figures. Art Fair Philippines recognized Dukot Survival as the winning piece costing P90,000.
Apart from its insult to landless farmers, who for decades have been fighting for genuine land reform even at the cost of their lives, and to the majority who are left with no choice but to eat burnt rice, as detailed in Ibong Adorno [7], Dukot Survival silences peasants' narratives by making a spectacle out of the very product they create with their labor. The exhibit, where Dukot Survival was shown, had an entrance fee of P350.00 ($7), an amount much higher than what most Filipino farmers earn in a day. In Hacienda Luisita, a sugarcane plantation in Tarlac, a farmer earns as low as P9.50 ($.20) for a week's worth of work.
Silencing by aestheticism isn't something new, either. For a country espousing the irony of scarcity vis-à-vis richness, the Philippines is also home to many artists who are always on the hunt for opportunities, willfully exoticizing and making prettified depictions of subjects such as poverty. This tendency dates as far back as the American Period. The Filipino critic Alice Guillermo writes: "There came new patrons for visual arts under the new colonial government. They were the Americans who first came here in the beginning of the current century. They looked for ricefields, native huts, carabaos, including colorful farmers fit for tourist postcards. Fernando Amorsolo, who became popular in the Commonwealth Period, was the main painter who responded to this need. Hundreds of paintings depicting handsome men and women amidst farm life came from him. Women working at the farm, selling fruits, cooking rice, bathing in the brook became the new kind of muse in paintings. These images however maintained the feudal depictions of women such as coyness. Although these pictures charmed people, they were far from the reality of farmers' uprising against abusive government-backed landlords in the countryside." Aestheticism's danger lies not only in seeing something that should be transformed beautiful, but also in believing that the act of its showcasing is a step to its transformation.
Resistance
In the face of these silencing schemes and the intensifying attacks on press freedom, free expression, and cultural workers, Sama-Samang Artista para sa Kilusang Agraryo (SAKA) or Artists Alliance for Genuine Land Reform and Rural Development and the Concerned Artists of the Philippines (CAP), launched during the month of arts two campaigns: "Free the Artists" and "Artists Fight Back."
Formed in 2011 to demand the release of poet-activist Ericson Acosta, "Free the Artists" finds renewal in the recent illegal arrests of some cultural workers. One of which is Alvin Fortaliza, a choreographer and director of Bansiwag Cultural Network, who was arrested in Bohol more than a year ago on false charges [8]. He still remains in jail despite the lack of evidence. The same goes for the members of Teatro Obrero, who were hijacked by the military on their way to the Escalante Massacre Commemoration in Bacolod City [9].
Meanwhile, CAP soft-launched the "Artists Fight Back" campaign on February 24 by lighting the walls of Camp Crame with the image of Duterte in a boldly stylized Wanted ad poster. The campaign aims to show the solidarity of artists against Duterte's attacks on democracy.
While most of us are being made to believe that the biggest challenge now to art-making is its continuation despite the pandemic, other artists, especially the dissenting ones, are being silenced in different ways. Worse, through murder and illegal arrest. Even it survives, what would be left of art if it loses its capacity for dissent?
The art scene in the Philippines cannot be divorced from the struggle of artists for genuine freedom, as artists are still at the mercy of institutional validation, as landlords still parade their capability to accumulate artworks, as dissenting artists still get disenfranchised in various platforms, as press freedom and free expression perpetually remain under threat.
Notes:
[1] Jose, Francisco Sionil, "The Oligarchy and ABS-CBN: Don't Give Them Your 'Balls',"
The Philippine Star
. May 18, 2020. https://www.philstar.com/opinion/2020/05/18/2014744/oligarchy-and-abs-cbn-dont-give-them-your-balls [2] Buan, Lian, "NBI Summons 'More Than a Dozen' for Coronavirus Posts,"
Rappler
. April 2, 2020. https://rappler.com/nation/nbi-summons-more-than-dozen-people-social-media-coronavirus-posts [3] De Leon, Sarah, "Pinoy Weekly Copies Seized by Police in Pandi, Bulacan,"
Manila Today
. July 26, 2020. https://manilatoday.net/pinoy-weekly-copies-seized-by-police-in-pandi-bulacan/ [4] Committee to Protect Journalists, "Philippine journalist Frenchiemae Cumpio detained since February on firearms charges,"
Committee to Protect Journalists
. April 22, 2020. https://cpj.org/2020/04/philippine-journalist-frenchiemae-cumpio-detained/ [5] Estrada, Roma, "Film and Fascism: Notes on the First Cinema Kritika,"
Bulatlat
. February 6, 2020. https://www.bulatlat.com/2020/02/06/film-and-fascism-notes-on-the-first-cinema-kritika [6] Feldman, Dana, "Oscars 2020: By The Numbers,"
Forbes
. February 4, 2020. https://www.forbes.com/sites/danafeldman/2020/02/04/oscars-2020-by-the-numbers/amp/ [7] Ibong Adorno, "Hunger Aesthetics,"
Facebook
. February 27, 2020. https://www.facebook.com/279025725900361/posts/842320432904218/ [8] Umil, Anne Marxze, "Groups Slam Arrest of Artist, Party-list Leader in Bohol,"
Bulatlat
. March 6, 2019. https://www.bulatlat.com/2019/03/06/groups-slam-arrest-of-artist-party-list-volunteer-in-bohol/ Marlon Maldos, who took over his position in Bansiwag Cultural Network, was murdered on March 17, 2020 in Bohol. [9] Karapatan, "Mass Arrest of 9 Cultural Workers in Negros, Indicative of De Facto ML in the Island,"
Karapatan
. September 19, 2019. https://www.karapatan.org/Mass+arrest+of+9+cultural+workers+in+Negros%2C+indicative+of+de+facto+ML+in+the+island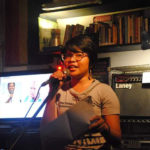 Roma Estrada has taught for ten years in different high schools and universities. She also writes for Gantala Press, Ibong Adorno, and Concerned Artists of the Philippines. Currently maintaining a column for Davao Today, an alternative online media outfit, she also co-edited LILA, a poetry anthology by women, and Kult, a collection of capsule critiques. Her other works can be read in the anthologies Umaalma, Kumikibo (Gantala Press, 2018) and Sigwa: Climate Fiction Anthology from the Philippines, forthcoming from the Polytechnic University of the Philippines Press.
&nbsp