I Am Robin Nabaro
Translated from Cebuano
The bus I rode arrived at the terminal in Digos at high noon. The driver might have been holding his bowels because he drove the Mindanao Star bus like a maniac. And because I was also in a hurry, I didn't complain. When the bus turned to its designated corner, the passengers from Davao got up. Some of them carried boxes printed with the words "Nutristar" and "Boysen." Others were carrying plastic bags from the NCCC supermarket. Some men brought big bags and it was clear on their faces that they wanted to get out. There were mothers carrying or tugging along their children. One child had thrown up during the trip.
When I glanced outside the window, vendors stared up at me with eyes that said, "Buy from me, buy my wares."
Before, the vendors could climb into the bus to sell water, nuts, boiled egg, durian candy, Chippy, Nova, pork rinds, and other items they carried on their shoulders. Now, they could only stay outside, unable to speak to passengers beyond the closed windows. Most of the buses to Kidapawan or Cotabato had air-conditioning. It had been years since I'd taken a non-airconditioned bus.
Sometimes, it was nerve-wracking to take the Mindanao Star bus because of the accidents their drivers had been involved in. But it was the same with passenger vans. Because of their reckless driving, a lot of horrifying accidents had happened, most of which quickly posted on Facebook. You could clearly see blood and brains splattered on the pavement. That was why whenever I take the bus or a van, I never forgot to pray, looking up at the sky. Even if there was a fear of accidents, I had to go to Davao every so often to transact with GSIS, NSO, and other agencies of government.
My body was exhausted from waking up early just to line up at GSIS. Good thing the transaction was quick and I was able to go home right away. The heat was oppressive even if the news said that the northern winds had begun and blow. Passengers flocked to the terminals because it was almost Christmas. And bus operators took advantage by indiscriminately increasing fare.
Good thing I brought my ID from UM. I was still taking a master's degree, but I wasn't sure if they'd accept my ID for the student discount. Fortunately, the bus conductor barely looked at the ID I handed over.
Sitting beside me was a woman of a certain age. She said to me, "The fare's too high, Day, right? Last week, it was only 95 pesos, and now it's 111. Ah! It's Christmas after all!"
"Really," was all I could say.
When the bus conductor went over to punch our tickets, he asked where I was headed.
"71 only," I said.
"Ma'am, I'll still give you Bansalan ticket, Ma'am, okay?" the conductor said, punching the tickets.
The conductor said to the woman: "Was that your box in the compartment below, Nang? We'll charge 20 pesos more, okay?"
The woman nodded at the bus conductor, and then asked me: "You're getting off 71, Day? I'm also from Matanao, somewhere in Tinago. But I'll get off Bansalan because I have a lot of things with me."
I nodded, too tired to make small talk. I wanted to go home and sleep.
The passengers going to Digos got off the bus. Some passengers went down to the terminal to go to the restrooms, leaving behind their backpacks. Sometimes I'd wonder if there were bombs inside the bags left behind, we'd all be gone.
Then I'd ask myself: "Would I go to heaven? Lord! Please let my soul in." This was my silent prayer.
Sometimes I grow paranoid when taking the bus and going to terminals. I remembered a pastor who was inside a bus, waiting for his wife. The person sitting next to him had a bomb inside his bag. They recovered only half of his body. I could still recall the pastor's face. He was actually good-looking. That was why I listened and gazed at him when he delivered sermons. They had just gotten married when the bombing took place.
Perhaps the fear never left you if you were from Davao or Mindanao. Vigilance and doubt overcome you whenever you were on a bus or at a crowded terminal often targeted by terrorists.
Apart from terrorists, there were also the panhandlers. If the terrorists brought fear, the panhandlers brought inconvenience. The frequent panhandler at the Digos terminal climbed into our bus. Slowly the familiar face emerged, wearing a large and blackened t-shirt, denim pants torn at the knees. He even wore an ID where his name and face appeared. His name was: Robin Nabaro.
One of the things I disliked were people who panhandled. They depended on handouts. A lazy bunch. They'd use their misfortunes just so they could beg. Others who asked wouldn't even accept a peso but five. There are others who might have a "disability" but still work hard. There was also a law about prohibiting people from giving to panhandlers. "Anti-Medicancy Law," I would always tell my students whenever they asked if it was right to give alms. I would never give, because if I did, I would not have been able to help them. I would have helped in pushing them further down.
He began with his script that I'd already memorized. Since I'd been in college in Davao, I'd been taking the bus. That was why I recognize his face very well. Until now, he still used the same lines.
"I am Robin Nabaro. I was a victim of a hit and run. I'm only asking for spare change, to buy some food. Just to buy some food, Mamser, Mamser, just spare change. They say it's better to ask than to steal."
In my mind, I mockingly recited his lines, "I am Robin Nabaro, blah, blah, blah."
He began to collect coins. He treated the small aisle inside the bus. The passanger in front of me pulled out some coins. He even struggled because he had a large belly. In my mind, I was pouting. "Don't give him anything. He's gotten used to it already. There are blind, mute, and people without limbs who work to earn their keep. He's just lazy."
When he reached my seat, I looked out the window so our eyes wouldn't meet. But then, to my surprise, something pierced my heart. An emotion I couldn't grasp. He got off the bus, carrying with him my deep regret upon not giving anything.
"No one else still in the restroom? Nobody in the restroom? Because we're about to go," said the bus conductor who brought me back to my senses.
The bus pulled away and turned. Lindsey Store, RB Gowns and Botique, Bamboo Resto, and other signs that were still in the city. When we left Digos, the sign boards disappeared one by one, giving way to a view of rice fields, grassland, the wilderness. As we passed Barangay Mati, I saw several potted plants along the road. There were so few of them this time, the cogon and bamboo huts receding from the road because of "road widening" projects.
Upon reaching the Capitol in front of the Davao del Sur Coliseum, I sent my husband a text message saying that I was about to arrive: "Just a few minutes, I'll be home." Barangay Colorado, Sinaragan, Camanchilles.
"Oh, 71, we're at 71!" said the conductor. Carrying my black shoulder back, I squeezed myself sideways along the narrow aisle of the bus. The bus unlatched the door, as though hissing. After the bus had left, as I was about to cross the street, a red car suddenly appeared before me. Deafening, the car sped off.
In a blink, the surroundings went dark. And in me stirred unease, dread, fatigue, regret, and horror.
"I am Robin Nabaro…" came my last thought.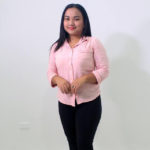 Elizabeth Joy Serrano-Quijano is a graduate of BA Mass Communication. She is a college instructor teaching Development Communication in Southern Philippines Agribusiness and Marine and Aquatic School of Technology (SPAMAST)–Malita, Davao Occidental. She is proud of her Ibaloi, Kapampangan, and Blaan roots. Her writings are her advocacy for the indigenous people of Davao del Sur, and are focused on the indigenous people, and on motherhood and children, as she is also a mother and a wife.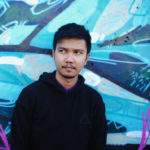 John Bengan teaches writing and literature at the University of the Philippines in Mindanao. His stories have appeared in Likhaan, Kritika Kultura, Asian Cha, and BooksActually's Gold Standard, an anthology of Asian fiction from Math Paper Press. His translations of Elizabeth Joy Serrano-Quijano's fiction have appeared in Words Without Borders, LIT, World Literature Today, and Shenandoah.
&nbsp