Full-Throated
You must be thinking of my grandma's people.
Must have me confused
with someone else.
I see the resemblance.
But I'm not the one—
won't be
compelled to cradle
every word on my tongue
behind the caging of my
teeth only birthing
Black ass bon mot babies
for your pleasure.

Bite my tongue?
I've heard, hold your peace,
& requests that I stay calm
(& maintain the illusion of peace.
Recall, we're all happy
if we're quiet.)
Bitch,
please.

My people trapped sharp
words in the esophagus,
dulled them down on the concrete
slabs of solitary confinement
sacrificed in silence
while carving in the throat
I was here

bold subversive graffiti
scrawled in the night.
The fumes of their words are why
my throat is dry from how often
I refuse to choke gag reflex
fix my mouth.

If you only knew what
I want to say when you utter:
temper your temper
as if a soft word makes palatable misery
as if tongue separates the bitter from sweet
as if it is my party trick to swallow back the bitter pit
as if tying my anger into knots like a cherry stem—

Woo—Ma'am!
Bless.

I am not my grandma's—

Child, that generation put
up with what they had to.

I never learned how to sweet
and swallow bad produce.
To fix my lips for long,
never rouged them red,
in replacement of bloodlust.
I too want words
soft on skin soft on psyche
lapping softly in my inner
ear revolutionary love words,
like: you matter.

Until then
I let sing,
every word.
In Love We are all Intrepid Explorers and Cannibals
I.
In my treasure chest of infinity boxes—
earrings made from the luminescent
light of his eyes, scent a cherry pit
on my tongue, the freedom to take
up space behind my ear,
worship in the temple of my round belly,
fingers that glance along the dimple in his back,
his teeth striping electric over, under
and between where my ass bisects into cheeks,
he moon tides between my thighs,
remind me of hollows between his toes
ripe for plucking—
universes are open for exploration.
II.
He and I consume one another
a curving ouroboros, slick
and primordial, a daisy chaining
organism, closed loop of two,
we claim and conquer in the name of
leave forensic evidence on our tongues
savor skin as soft and salt laden
as butter pecan ice cream
sipped from God's own mouth.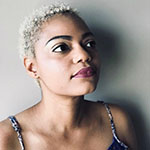 Angelique Zobitz has work in or forthcoming in Sugar House Review, The Adirondack Review, Obsidian: Literature & Arts of the African Diaspora, Yemassee Journal, Glass: A Journal of Poetry, Poets Reading the News, So to Speak, SWWIM, Rise Up Review, Rogue Agent, Pretty Owl Press, Mom Egg Review, and Psaltery & Lyre amongst others. She is a Spring 2019 Black River Chapbook Finalist and a two-time 2019 Best of the Net Anthology nominee. She lives in West Lafayette, Indiana with her husband, daughter, and a wild rescue dog and can be found on Twitter and Instagram: @angeliquezobitz.
&nbsp