[1115]
from this bed the city 
waits                on me half-awake                       (human suit!)                             watching
                                                                                                                                         the window washers saddle up high
                                                                                                                                         above river's magenta
awnings
wavy    heat    
melodramatic vista                          straight buildings stand         far out

                                                                                                              of the water   held 
                                                                                                              in my hand

                                                                                                              every view's a hospital

                                                                                                              i have been too 

                                                                                                              honest about looking
he can't find my veins
i was certain these clanking machines
the antiseptic 
the sutures                               
the cytosine
[1128]
                                                                                                 exhausted paradigms        work, etc.
                                                                                                 government takes it         loans, etc.
                                                                                                 have not showered
                                                                                                 one tall wall      etches Monday caffeine 
                                                                                                 a glass house     (re-upped)
                                                                                                 watching earlier: gravitational waves?
                                                                                                 dark matter?
going to be late if i continue lifting my skin with the safety pin i recognize this i continue
lifting the safety
centifolia
in the garden i tell you  
the old 
roses were made 
to gather 
scent until scent 
spat back wire.
the carnivorous pitcher
plant sways around 
its prism. a green 
frog clings 
to the lip.
we both wonder.
noon's target twitches on 
our chins then 
a host of cool 
smoke.  we see 
ourselves tired of 
bodies, warm shells—
we are cruel to the succulent 
who grows as 
a rock
performs 
(safer than 
itself). 
outside the fence
a leaf tings 
its cymbal. we 
read the lines but still 
can't keep 
the trail. 
we know we won't 
be like other 
makers, going far 
in their borders 
with nothing 
sharp to say.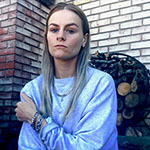 Abbigail Baldys is an interdisciplinary artist. She earned her MFA from Saint Mary's College of California. Her work has appeared in 491 Magazine, Reality Beach, Three Rivers Review, Collision, and elsewhere. You can find her ignoring contact cement in South Williamsport, PA.
&nbsp