rites
From my stomach are birthed
only useless letters
and some poems I'm imprisoning
at the foot of the desk.

In each word that's sung
I evict a smooth ovum
pregnant with light
and screams.

All the children I never had:
the dreamed-of ones,
the forgotten,
the stolen, slide

thick liquid
between my legs
in a sad ciranda dance,
inextricable.

Afterward, I become again
the smooth membrane of the word:
clear, chaste, calm.
Once again I possess
the uterus of the poet.
The Boats
Dawn. On the open sea, the shoals devour the smooth water
with their bodies of nothing.
Already high, the sun announces
through the open net on shore
that I'm not going to fish.

The shallow boat
is battered by the waves which,
like embittered whores,
seduce no clients.

I don't get up—
small birds perch on the vessel,
shitting on the hull, pecking at its edges,
gnawing deeply the scents of the salty air.

The net sleeps sadly
like the useless sheets
after love's passage:

they retain, impregnated in their flesh
scents and substances
like the stains of what happened.

Today there's no reason for me to arise,
there's nothing to search for in the beyond-me
there's no Eros to restore my hunger and thirst:

the sea I thought immense
found its end.
My Dear Friend
"My dear friend, I really wanted to write you"
—Chico Buarque
This Nereid who captures you
in the stories of her sheets
devoured you.

She keeps you in the narrows
of her entrails,
and you became a ship, submerged
in the immense darkness

in water that's violent
but has no tempests,

only your hands dancing
on this sea sewn of thick filaments.

Where you are, everything is brutish,
hidden creatures drink from your shadow.

Life passes through me and I can't tell you:
that I got thinner and cut my hair
(now it's growing, ringlets, small like yours,
bending back upon themselves.)

That I'm stronger.
That I almost know how to put up a fight.
That this week I found out I was pregnant—
a false positive.
That I cried.
That I'm the same as you: pure silence.

While this Nereid is combing
your hair
with her hands,

I keep on unlearning how to sing,
find that life has lost its allure,
and all the shipwrecks I made of myself
in order to find you

lick the fringes of the waves
out of pure fear of the depths
that lie within the sea.
Freudian Woman
In the farthest depths of the men I love
there is my father, his flesh with its ocean scent.
He draws himself in the skin of my men
as the sea inscribes scales in fish.

(Each body in which, absorbed, I source myself
has something of his rocky voice.)

In the black skins I bathe in
floats his tidal existence:
pregnant with the shipwrecked.

At the feet of these delicate helmsmen
who think to speed their ships through my waters,
I am the Kianda mermaid,
a mirrored coral
I am the oyster who lingers in silence.

I am the eternally translucent water.
Dense precipice where these fish
drink only
a delicate silence
translator's Note:
The Kianda mermaid is a figure with supernatural powers who appears in Angolan legends. A Kianda can inhabit any body of water. According to one story, one Kianda helped a poor fisherman with his catch, but when he turned rich, he got selfish. Ever since then, the Kianda resolved not to help men, instead using her song to lure fishermen to the bottom of the sea.
Abebé Omin
Violent and beautiful dance
in the crest of my soul.

A sweetwater voice
whispers in my ears
in another language:
about maternity made of gold and mystery.

You tread on my judgment
with your feet made of fish,
shipwrecks, and fathoms.

Brutish and truthful, you dance on the ground of my soul,
prepare my body to be your abode.

I vomit annoyances and antipathies
and emerge again clean and innocent.

You wash my feet with your hair made of water,
wash my womb,
my hands…

You place yourself wholly before me
in the exact and necessary proportion,
filling everything with your crystalline brown.

You gave and will give me everything,
and I offer my golden red head to your feet,
that here you may walk,

dwell, remain, live
now and forever
inside this lake that's both weak and deep
this river that runs from me through me.
translator's note:
Used in candomblé rituals, an abebé is a gold or brass colored mirror decorated with symbols on the edges. When gold, it is used by the orixá Oxum. Omin represents fresh water, also governed by the divinity Oxum.
Osun Janaína
I discovered that, for me,
to be a woman is enough.
So that I might pull off veils,
lift skirts
paint nails with a ferocious red—
even if it's only to say later: stop.

Or so that I might see your body's discontinuous dance
on my own (or my opposite)
in the mirror that emancipates itself
from the walls of this room
and this delicate afternoon.

But to be a woman is always enough—
although it's whole and futile,
a wave that strikes against the rock
and smashes into pieces
only to return whole again
—drowned—
in a sea of (in)differences
where each solitary,
unique droplet,
forms a jumbled speech,
changeable,
plural—
even when I fling myself against this rock
that hurls me back.
translator's note:
In candomblé, Osun represents the goddess of fresh water. Janaína is another name for Iemanjá, the goddess of the sea.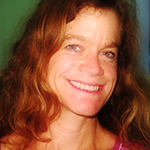 Tiffany Higgins is a poet, translator, and journalist writing on Brazil and the environment. Her longform narrative journalism appears in Granta, Guernica, and the Revelator. She is the author of The Apparition at Fort Bragg, And Aeneas Stares into Her Helmet, and a chapbook of translations from Portuguese of Alice Sant'Anna's poetry, Tail of the Whale. Her poems have appeared in Poetry, the San Francisco Chronicle, and elsewhere. Her writing and translation have been supported by residencies at Canada's Banff Centre. In 2020, she will be the Annie Clark Tanner Fellow in Environmental Humanities at the University of Utah.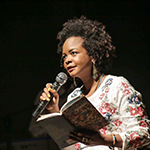 A poet and professor at the Universidade Federal da Bahia, Lívia Natália is the author of five poetry collections: Água Negra (2011), Correntezas e Outros Estudos Marinhos (2015), Água Negra e Outras Águas (2016), Sobejos Do Mar (2017), and Dia Bonito pra Chover (2017). Her poem "Quadrilha," which describes the grief of a woman whose lover was killed by Brazil's Military Police, was censored throughout the state of Bahia in 2016. All copies of the poem—which had been displayed publicly on billboards as part of the Poetry in the Streets project in Ilhéus—were ordered to be destroyed.
&nbsp