Leather Speaks: I
At first, a mere whisper. 
Not a secret murmur through 
clumsy cupped hands, but a 
sigh of silk on silk slithering 
over bare skin. Covering hairpin 
hips, the wave of curves, small 
nipples caught behind armored 
chiffon. The opposite of 
shedding. She casts 
her natural body aside binding 
new skin to someone else's 
bones. Duct-tape wound tight
wrapped like the dressing 
of a wound. 
Leather Speaks: II
As leather speaks, it's 
reflective lips quiver open 
with tiny silver
teeth. Like the locked 
fingers of clasped hands. But 
now split and spread 
apart. Inside a gash. A pale
skin smile. Slowly, slowly 
a coy whisper slips out 
of its metallic mouth, low
and soft. Does it tickle 
your ear? Come 
closer, lover. Lean in 
when leather speaks,
beckons you 
to listen. 
Leather Speaks: III
Caught in a silent 
picture, dripping in 
leather's sweet skin. This 
layer an opaque veil. A 
negative transparency. Velvet 
curtain. Do you want 
to know what goes on 
underneath? To take 
her apart, see what makes
her: warm light and 
wavelengths, filled with 
your desire. And when you
finally touch, finally feel 
her on film stock, you are 
stopped by a sudden 
sound. The fantasy broken, 
fucked by a hard gasp, a
crying out. Not from 
her mouth but second skin, 
now a shroud made of shadow
the leather stops your 
touch, commands instead
 Let her speak.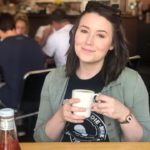 B. Woods is a creative nonfiction essayist and poet living in Huntington, WV. Her work has most recently appeared in Bacopa Literary Review and Storm Cellar Quarterly.
&nbsp