The magic alphabet
I began to write creatively when I learned the alphabet and my Mom gave me the most beautiful Scribe notebook in the stationery shop. But I really began to write, trying to weave one sequence into another and bring them to a conclusion when I was ten years old.
That happened thanks to my neighbor Eugenia, who was the same age I was.
We had a small grocery store and I spent hours there every day, did my homework there. And she came to visit me there. A wooden bench sat beside the entrance. When Eugenia arrived, I came out from behind the counter and the two of us sat on the bench to tell stories. Well, actually, it seems I was the one who told them.
It was like this. Eugenia didn't go to school. They didn't admit her because "she was sick," they said. She didn't learn like the rest of the children, she didn't remember, didn't make generalizations. But the few days she had been able to go to classes were enough to implant in her an enthusiasm for notebooks and pencils and for those magic arts by virtue of which drawing lines on a sheet of paper was making "word pictures." So said Eugenia and as of today, I still have not found a better definition of what writing is.
And so Eugenia began a passionate hobby. She took a grid-lined notebook and set herself to "paint" an ex on each little square. She began at the first page and didn't stop until she'd filled the notebook with exes. This might take her an afternoon or an entire week, depending on her desire to write. It didn't matter. Her parents bought her notebooks by the dozens, and they became the only gift she asked for.
When she finished drawing the ex in the last square on the last page of her notebook, she came running to our store. She brought me her notebook so I could read her the story that she'd written. I already knew what I was going to find, but I read those hundreds of exes as if they were sensible, connected sentences. And a real story began to take shape. I was inventing it or that's what I thought at the time. Now I think maybe I invented nothing and those stories were really there, written in an alphabet of a single letter that I somehow had the gift of deciphering.
Eugenia watched me enraptured while she heard me read her own story. She never took the notebooks back. She left them all there with me so I could keep them safe. My papa had put a shelf in the back of the store that already contained dozens of volumes of my friend's works. And she, who knows how, knew one from the other. When she liked one of the stories a lot, she asked me to read it to her again. And from among all those volumes that to my parents and I looked the same, she took out one: the story of the man with the head of a horse or of the pirates in love, or of the boy that a witch saved from drowning.
And me? I waited until she left and then set to writing from memory what I had just finished reading to her. I didn't do it with all the stories, only those that I liked and really, they were very few. But in doing so, I began to cultivate the craft of telling stories.
One day, Eugenia's parents decided to move to Mexico City, where it seemed she could go to a special school. They took her from me. They took Eugenia away from me. I never heard any more about her.
I saved her notebooks until an employee's carelessness caused a fire in the store. Paper was the first to burn.
Now, when the condition writers call "writer's block" threatens me, I get a grid-lined notebook and start filling the little squares with exes. I hear Eugenia's voice telling me that they are word pictures. And my story that was jammed flows again.
translator's note:
"The Magic Alphabet," is set in a small city in Mexico, one in which working class people often have modest stores, such as we once had here. "Mom and Pop" shops, we used to call them. The town is small enough that it cannot provide services to a special needs child such as the one the narrator has as a friend. A translation issue arose at the end, when the narrator mentions "hipster" writers talking about creative block. We have hipsters, of course, but they are not the same thing. Cadena means a younger generation of writers in Mexico and implies that "creative block" is something they talk about, something older writers did not do as much. Our common usage is "writer's block," and I thought it best to leave the hipsters out of it. Sr. Cadena agreed with me.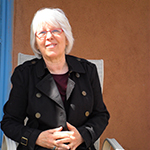 Patricia Dubrava teaches writing and literary translation at the University of Denver. She has two books of poems and one of stories translated from the Spanish. Her translations of Agustín Cadena's stories have appeared most recently in Mexico City Lit, Exchanges, Asymptote, Numéro Cinq, and Cagibi, Fall 2018. Her translation of a Cadena story was a finalist for Lunch Ticket's Gabo Prize in 2017. Dubrava blogs at www.patriciadubrava.com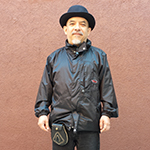 Agustín Cadena was born in Ixmiquilpan, Hidalgo, México and teaches at the University of Debrecen, Hungary. Essayist, fiction writer, poet and translator, Cadena has won national prizes for fiction and poetry. His books include collections of short fiction, essays and poetry, five novels, and eight young adult novels. His work has been translated into English, Italian and Hungarian. Cadena is currently on tour in Mexico to promote the 20th anniversary edition of his novel Tan oscura. He blogs at www.elvinoylahiel.blogspot.com
&nbsp