Procedure
the plans are made,
this is not an eviction.
I push below my belly button,
can feel a difference.
this is not an eviction
or a reverse coronation.
I did not say goodbye,
the so-long implied,
nor did I consider a greeting.
the plans are made,
I am not home.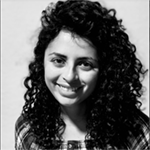 Maryan Nagy Captan is an experimental writer, educator, and performance poet based in Austin, Texas. She is a Poetry and Screenwriting Fellow at The Michener Center for Writers and serves as the Marketing Director for Bat City Review. Maryan is the author of copy/body (Empty Set Press, 2017) and an alumna of the Disquiet International Literary Program. Her work has appeared in or is forthcoming in Anomaly, Foundry, ProLit, AJAR, Apiary Magazine, Mantra Review, Boneless/Skinless, Sundog Lit, and elsewhere.
&nbsp