#21CENTURYINDIANPROBLEMS
1. If we don't know our clan,
does that mean we can eat all of the animals—
or none of them?
2. If my partner and I are both
from matriarchal communities,
whose family do we move in with?
(and who provides the deer for the wedding?)
3. If being de-colonial means I should give up fry bread,
do I also have to give up my glasses? They're the only
way I can see the beads to make my traditional regalia.
4. If I am deer clan on my Mom's side
but the sorting hat put me in Ravenclaw,
Which animal do I put on my beaded medallion?
Can I put both?
JUST WHAT KIND OF TRICKSTER ARE YOU?
"Well, which are you—a finger or a thumb?"
I—
I am a hand
an arm reaching
a body
a community across generations
I am
the cosmos translucent.
"Ok…I'll put you down for thumb, then"
SILENT PRAYER OF AN INDIAN ANTHROPOLOGIST BEFORE HEADING TO WORK
If I die tomorrow,
don't let them put me in the department storage room,
(lord knows I came out of the closet decades ago)
wrap me in plastic,
(I, like my ancestors, prefer natural fabrics,
silk is best, but cashmere will also do)
or break off pieces of my teeth
(Instagram can tell them what my diet consisted of).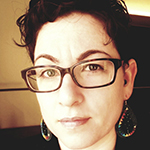 Jenny L. Davis (Chickasaw) is a Two-Spirit/queer Indigenous writer from Oklahoma who currently lives in Illinois where she is an assistant professor of American Indian Studies and Anthropology at the University of Illinois, Urbana-Champaign. Her creative work has been featured in journals and anthologies including Transmotion, Santa Ana River Review, Broadsided, Yellow Medicine Review, As/Us, Raven Chronicles, and Resist Much/Obey Little: Inaugural Poems to the Resistance.
&nbsp