CITIZENSHIP OF THE OWL AT GENERAL MOTORS
He heard ho-zay. Every time a mispronunciation.

José can you see, after twelve hours in the foundry? 
The foreman says, owls like the heat. No 
need to dirty a fresh faced white up there, where the iron 
melts men. When spilled, the metal beads like mercury and burns through flesh. 

Count what the rocket sheds, the propellant which lets it fly from atmosphere to space. 
Without sun Michigan sounds like Michoacán where his eyes didn't need shielding. 
An engine block sealed shut in the beautiful body of a Buick. 

No one will wonder who made this cylinder block and how it will remain 
after the nocturnal silences us all. The continuous hum of the line 
shaking a path through darkness is the pulse of the owl. He hears it 
as he flies home and strikes a second time on the first song bird of morning.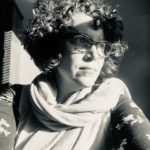 Monica Rico is a second generation Mexican-American who grew up in Saginaw, Michigan alongside General Motors and the legend of Theodore Roethke. She is an MFA candidate at the University of Michigan's Helen Zell Writers' Program and works for the Bear River Writers' Conference.
&nbsp