Jazz Asylum
I dusted off two generations
of fingerprint play
scored like banana leaf veins
in Etta's shellac grooves
like old lightning
behind the ghats
vinyl black gleams taunting
in solid tones the Armstrong
loss of the gramophone
can't hear no 'mo
the chappal-slapping squee
and squidge of Dolphy who smiled
from a paper label
measured in diameter
and global revolution
they were once cranked up,
the stylus like a conductor
sending horns out the verandah
and vibrating The Doors
among other stored music
too bad, the world turntabled
stacked, they get wrapped
in dhobi cloth
harbouring all ticks and pops
and Beatles quietly now
no more rolling the shastras
of the Stones
to make our ears ring
in sepia, and life
doesn't pour through the cracks
as they once did.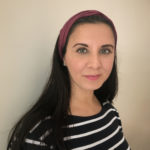 Mrinalini Harchandrai is the author of a poetry collection A Bombay in My Beat. Her poetry has won first prize in The Barre (2017), and was a finalist for the Stephen A. DiBiase Poetry Prize 2019. Her (as-yet unpublished) novel was selected as Notable Entry for the Disquiet International Literary Prize 2019. Her short stories have been longlisted for the Commonwealth Short Story Prize 2018 and selected as a Top Pick (2018) with Juggernaut Books, India. Her work has been anthologized in The Brave New World of Goan Writing 2018 and RLFPA Editions' Best Indian Poetry 2018.
&nbsp