Hands Open for a Ricochet
(a golden shovel after Kesha)
My breath comes cold, a sort of invitation—the light's been
waning thin like the iron in my blood. You've underestimated
the ink stains on my tongue—now the gap in my teeth is my
personal vortex of filth. I'll sway the sinister with this entire
mouth filled with flickering candles and salt sparkling to life,
just letting go of secrets, my hair laced with truth. Tonight I
believe in satin and stereo and, from the windows, I know
vitriol—and I ask it to dance. This city is a place for people
who would rather be birds; I hide the feathers. I'm gonna
spin in the stars if the blood lets me, a ghost coming to talk
trash at the threshold and on the street. I'm breaking the shit
you left on the high shelf—glass turns to bees. Look up and
taste the ending now on my lips to live and to burn. Darling,
I'm the root of the apple and the heart of magnolia—that's
how I'll bend and break to sting you and how I'll still be fine.
Girl Is a Fever to Burn the Brick
(a golden shovel after Kesha)
I can't wait another day to turn the lights on. Using my mouth I
tear myself from this page at dusk. The body knows—it's been

my flannel and silk to sink into the savory, to hold onto bad living
and more crows tapping at the window. The oak presents itself in

splinters, slides into my skin. I drink myself like a rich red tea, a
warm reminder of the ash and the vein. Seeds are the lonesome

chords striking my vertebrae, the overripe fruit of an entire galaxy
come to die beautiful in garbage. When I wake I am nothing but

little orange bottles. And I am the dirt and the gravel the roses in
my teeth the yarrow down my arms the stiff feathers set to let my

fingers loose to touch the rough bark of the world. These are my dreams
floating in water. No, drowning. No, walking in waves, foaming breath. I

wash my hands in a puddle of apple blossoms, crush the flowers, see
that tired coyote, her teeth out. I take your cooling embers, put them

behind my lips, wear them like diamonds. I'm here and I come
to claim the magic of paper and silver, the mystery of heart and

snake. I let the lace touch my knees and step outside to rescue
myself from the duality of virtue, a human touch to haunt me.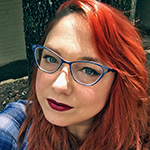 E. Kristin Anderson is an author, poet, Starbucks connoisseur, and glitter enthusiast who formerly made magazines with The New Yorker and read submissions for Found Poetry Review. Currently she's an assistant editor at The Boiler and an editorial assistant for Sugared Water. She is the editor of the literary anthologies Come As You Are (Anomalous Press) and Hysteria (Sable Books, forthcoming), and is the author of nine chapbooks including Pray Pray Pray: Poems I wrote to Prince in the middle of the night, A Guide for the Practical Abductee, Fire in the Sky, 17 seventeen XVII, and Behind All You've Got (forthcoming). Kristin grew up in Maine and has a B.A. in Classics from Connecticut College and currently lives in sunny Austin, Texas.
&nbsp