A Corbeaux Villanelle
Anyone could tell me why man stay so?
If you say yes, they must say no.
Playing dead to catch corbeaux.
My friend had a man, real nice darkie
But he leave her dry dry cause he mother say so.
Anyone could tell me why man stay so?
Moms say she too dark, she can't raise the blood.
She sanction a reds who bring her son low.
Playing dead to catch corbeaux
I see him last week; he loss he wuk,
she take house, child and put him outta road.
Anyone could tell me why man stay so?
Ah nex' one I hear propose to a gyul
But getting him to marriage was like making it snow.
He play dead to catch corbeaux.
The slap up start right after wedding;
the ink still wet, but was blow after blow.
Anyone could tell me why man stay so?
She bloody and bruise six days out of seven,
but using concealer and calling it 'glow'.
Playing dead to feed corbeaux.
The day she leave is the day she dead;
She pack a bag, he lock the door.
Anyone could tell me why man stay so?
Leaving the dead to catch corbeaux.
Oriki-Elegy For Vanessa
Vanessa, I loved your slow stride,
weighing your body on a cracked
pavement, dark skin glinting
on peeling walls, dark lips bold
under the trees of our small park;
every cut-eye purposeful, every
hip sway a tool. Vanessa, you wore
tight black dresses like a sin,
bracing, bubbling, not poised
to suffer fools.Vanessa, always armed:
weapons inked into your skin,
metal piercing clean through.
You preferred the scars you could control.
Vanessa, you always wore gold,
and some snatched wig, calling men
and women to arms in Murray Street night.
Vanessa, your man walking behind you
(who can remember his face?)
and young boy ahead. I saw you
scan the street for any who dared
maljo what was yours. Vanessa,
your rare laughter was more of
a flash of fierceness than of joy.
Vanessa, did they ambush you?
Did they feed you with the left hand?
Did they burn candles, scrape
bad mind into a calabash?
Vanessa, who flung you
like refuse down a precipice?
Vanessa, your wine-and-walk,
your thick slashes of jewelry didn't
stop whoever from snapping your neck,
leaving you nude, fetid and foetal
on dark, rotting land. Vanessa, they
real outta hand, photographing
your body in pieces, and still,
you reposed like a badjohn,
even in your rigor. Militancy
still armoured into your skin.
They could not strip you enough
to make your flesh hide itself,
to force your skin to rot and run.
The earth refused to hold your body
until your life was sung.
Trinidad and Tobago Newsday, Tuesday October 11, 2016—The decomposing body of a woman found yesterday at the bottom of a precipice off Morne Coco Road, Maraval, has been identified as 28-year-old Vanessa Roxanne 'Buffy' Ackie. Police believe the woman, who was known to work on Murray Street, Woodbrook, was murdered and her body dumped in the bushy area.
Visitations
For Pearl
I
Jolted by a glimpse of you
along a rutted country road.
15 years ago,
they dragged me
to the funeral,
and it
felt like ashes
in my mouth.
The coffin open wide –
Over-painted mouth,
grey powdered skin;
clownish ruin of yourself.
Later,
I stood terrified as you shrieked,
blaming me
for how they dressed your corpse;
the dream fence contained
your rage
until your nine days passed,
and your body crumbled into
ashes.

You were ruthless with me,
ripping at my crooked stitches,
my wrinkled bed sheets,
insisting that I be good enough
until I was.
As methodically as you nurtured rose bushes,
plants that never
quite settled in this soil, and
withered quickly as your house emptied.
II

It is empty now.
All your plants and hedges are gone.
There are dried leaves
in the drains,
dust playing mas on your porch
as if it mattered.
And for 15 years, I have not known
how to reap peace from grief.
I hold now
glimpses of you,
links of the yellow gold you loved,
So I would remember your pruning,
and grow toward
the sun.
To see you
barrel by in that green,
rusted coffin of a car,
was a flash of light
to guide me;
a full moon to plant myself in,
and thrive.
Bury Me

[VERSION 1]
"When I dead, bury mih clothes;
I don't want no sweet man to wear mih clothes."
– Growling Tiger, When I Dead
Sweating, sweating
flinging words like
a real batonniere,
flinging lash like
I don't know fear;
feeling the crack
of jumbie whip,
of bones,
of wood in every
footstep,
every dance step,
each stumbling trip
around
the gayelle.
I should ah be
a chantuelle,
to call up
a thickened night sky
and level the spirits
speaking tongues.
My breath lick like
flambeau,
flare like
a nine-night limbo,
my bwa is spirit-tipped,
and treacherous.
It only have one road
one ring
one place
for me.
My gayelle
inside
the cemetery.
When I dead, bury meh clothes
Is better I lavway
give way
put all my sins
behind me
mount the bwa
leggo
Let the throbbing kalinda
echo
across the gayelle
and into memory
Let them send back
a message in the buss head
and tell me why
I born seeing jumbie
in the wood
why I born so dread
so dry,
feeling to die.
Hold the poui
hold the poui
and pray.
The cutter drum leading the way.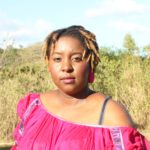 Desiree Seebaran is a Trinidadian poet, writer & editor. She is an alum of the Cropper Foundation Residential Workshop for Writers (2010) and the inaugural Moko Magazine Poetry Masterclass (2018). Her work has been shortlisted for the 2014 small axe literary competition (poetry). She's also been published in the Cordite Poetry Review 81 (May 2017) and shortlisted in Frontier Poetry's Award for New Poets Contest 2017. In 2019, her poems "The Sweetest Horn" and "Bone" were published in Interviewing the Caribbean journal, and an earlier version of her chapbook manuscript Canal Water was chosen as one of three highly commended entries by judge Amy Wack in the 2018 PBS & Mslexia Women's Pamphlet Competition.
&nbsp