Sugarcane Artists
He was a jus' come artist,
they whispered behind
grizzled, green and yellow fingers.
But sometimes the best lessons
are self taught—
no more letters need come after
the name we decide to own—
a university degree my take us no further than
the arduous 360 degree trek we took
to find ourselves.
He was quietly confident;
courageous—
sugarcane raw talent.
Demons exorcised in
furious, cane-cutting,
cathartic cutlass strokes
on blank white canvas.
He taught me to see—
bravely mix colours; blue
green, violet, yellow, white
to make a brown boy's body live;
paint with a violently emotional brush
dipped into the bright brash palette
of lineage and my view of my world.

Fear of Stones
I never thought I would have to fear stones—
like Kei's Miss Mary boy, Mark;
like the heat seeking stray dogs,
the persistent indigents;
all pelted plenty.
Fear of stones—
like my Father, after his head
caught a missile at Carnival;
like the village after the river
batted storm-bowled boulders.
Metaphorical stones
(rocks from ages cleft for me)
these have landed hard for sure,
(built you a whole road not to follow)
but broke no bones.
As with objects
of dread or envy,
or things in the way,
obliterated by fire,
or cutlass courts,
perhaps this was yet another
innate island initiation; inevitable.
Yesterday I faced my first flying stone—
one I am implicated in choosing—I flinched,
held out flat hand as shield, even though
I knew only in games and good books can
paper conquer rock—
[Breathe out]
[Breathe in]
Must I turn to Jakuta or Stone?
I hope
it will take me to the end
of this poem to free me
from thrown-stone phobia.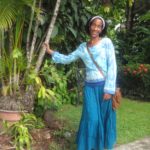 My name is Celia Sorhaindo, a poet born in Dominica, West Indies. I lived many years in the UK and returned home in 2005. I was an organising committee member of the Nature Island Literary Festival and also the Dominica Link for Hands Across the Sea, a US based non-profit organisation which aims to help raise child literacy levels in the Eastern Caribbean.
My poems have been published in The Caribbean Writer, Moko Magazine, Interviewing The Caribbean, Susumba's Book Bag and the New Daughters of Africa anthology. A poem of mine was also long-listed for the UK National Poetry Competition 2017/18.
I am a 2016 Cropper Foundation Creative Writers Workshop fellow, a Callaloo Creative Writing Workshop 2017 fellow and am currently finalizing my first poetry collection. 
&nbsp