Our Dark EcologieS
One of the theories explored by astrobiologists is the idea that life on another world will utilize different biochemistries, foregoing Earth-like structures for something else. These forms of life could easily elude human detection, as all our methods assume aliens will operate in some replica of us. Taken to its natural conclusion, there could be a whole shadow ecosystem even here on Earth, living, breeding, dying with no notice from us.

Silicon
First, we must consider carbon. All life on Earth is built on carbon and its lightweight structure. Its small size carries an enormous weigh, its six protons crown it "the King of the Elements". But, there could be other elements that could fit that role. What might life look with one popular alternative?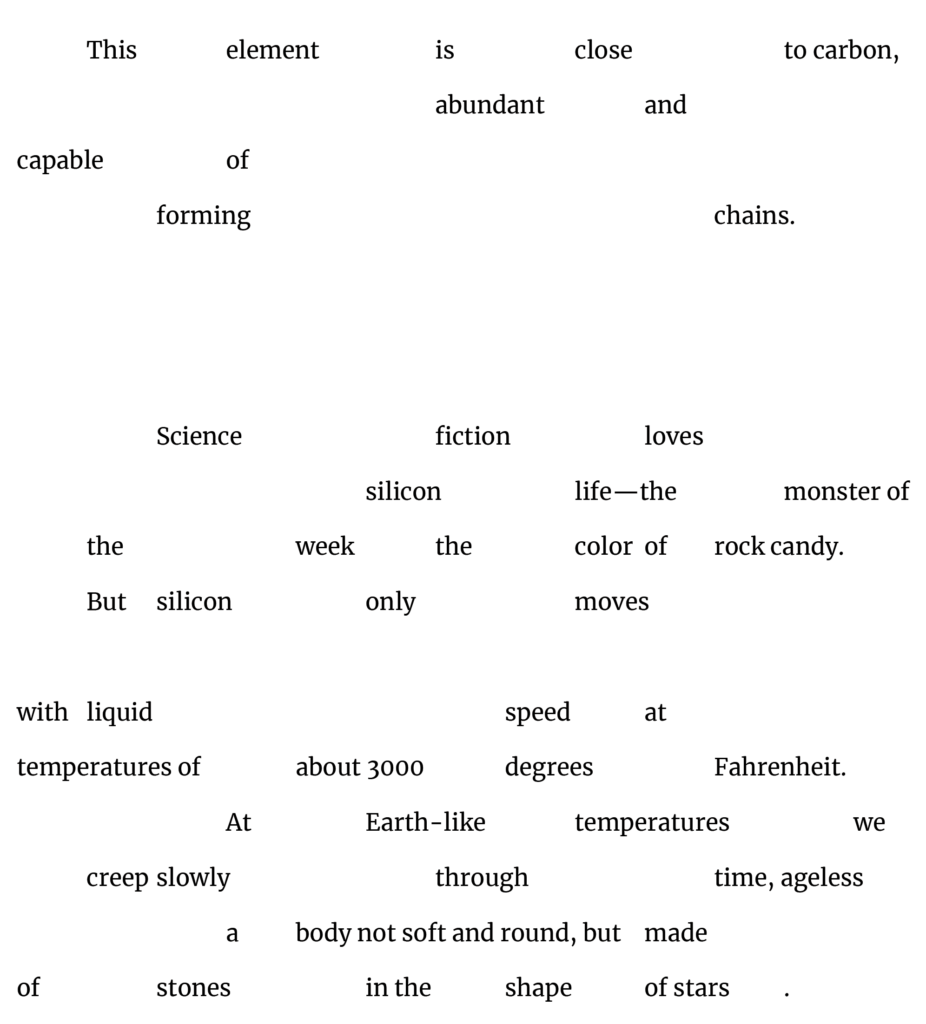 Sulfur
There are other ways to end carbon's chauvinism than just silicon.
Sulfur
can
create
long
chain
molecules
essential
for
life.
In
fact
in
the
darkest
pits
of
the
ocean,
bacteria
create
energy
from
sulfur,
gulping
down
the
viscera
of
the
Earth.
But
this
element
rarely
conforms
to
the
branched
chains
needed
for
complex
life
as
we
know
it.
Here,
we
live
in
a
reality
of
an
endless
line,
a
backbone
of
rotten
eggs
and
the
yellow
film
of
the
damned.

Ammonia
Life is resilient, giving and taking everything so it can fit into the smallest gaps of possibility. Yet even the most exotic microbe depends on water to survive. Life needs a liquid, but flowing water is a rarity in the cold burn of space. Perhaps, organisms may find a mimic, so close you could almost imagine its rivers and seas.

Ammonia is a proposed as an alternative to water in biological processes, one that has appeared in the scientific literature since the 1950s; Like water it is made of common elements, hydrogen and nitrogen; Ammonia donates and accepts hydrogen ions in the way water does, dissolving sugars, amino acids, and proteins to be carried throughout a cell; It may not be in a way we're used to, but Ammonia can split and carry a chemical thought. Ammonia, like many of the alternative biochemistries, is only applicable in extreme environments, boiling at room temperature; But there are many places where the air sits heavy and cold upon its surface; But Ammonia is greedy, it prefers to take ions, not to give like water. Our world is the acrid ice, a world that would set itself on fire before it made a clean break;
Dust-Based Life
But have we considered a life form so strange we can't grasp its form? A life that looks like an object discarded?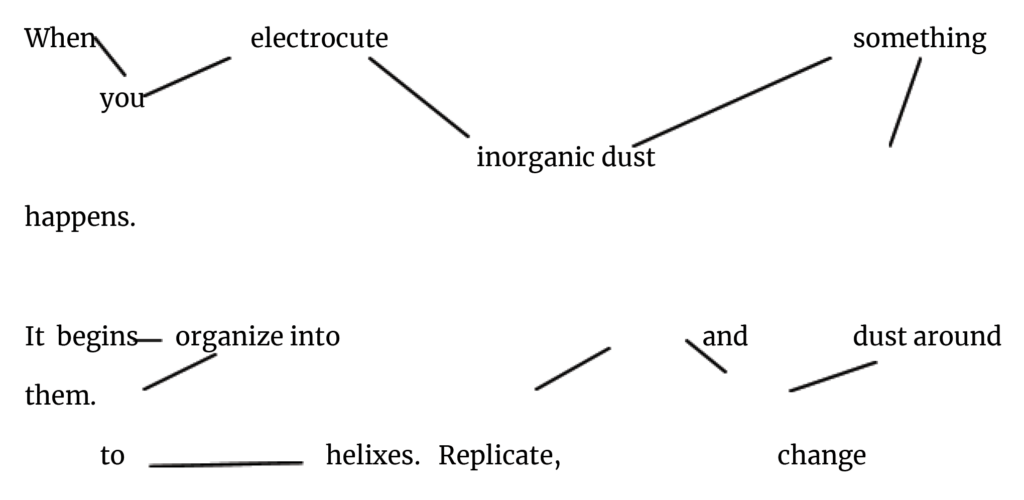 In this life we float, – unmoored, a particle waiting for the spark to align ourselves. Really, that doesn't seem much different from the world now.
Reverse Chirality
Maybe life won't be any of these things. Perhaps, we will find a life so like us, we will not recognize it for the alien it is.

This is the easiest way life could differ from us chemically. Amino acids and sugars exhibit chirality, a geometric property in which an asymmetrical molecule can have a mirror image. All life has amino acids, the bases of proteins, present in the left form with sugars in the right. There's no reason as far as we know for this, no inherent advantage. It's just the way life happened to form on Earth.

Things could look almost the same. There's no reason you couldn't snack on a plum, that its skin would be any less pleasantly snappy and tart in this world. There's no reason you couldn't drive your truck to school one morning, contemplate skipping and instead swim in your leaf-strewn apartment pool, admire the palm trees shape, the way afternoon rain falls off their heavy fronds.

But maybe in this life, it's your left hand you use to take the plum out from the grocery bag you'd left it in overnight. Maybe your truck doesn't cough and wheeze its way the few miles from your apartment. Maybe the fronds have fallen away from the walls after the last storm, or they didn't fall at all, still reaching their green hands out to shade your lounge chair from the sun.

Maybe, in this reverse world, you'll see your mirror self, so like yourself. But for all the similarities, life on Earth can never utilize reverse-chiral molecules. So look, but never ever touch that shadow self—the closest, but most unnerving alien.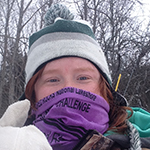 Ashely Adams is a swamp-adjacent writer whose work has appeared in Paper Darts, Fourth River, Permafrost, Apex Magazine, and other places. She is the nonfiction editor of the literary journal Lammergeier.
&nbsp