River is time
Excerpt from Echoes of a Tumbling Throne (Odas al fin de los tiempos) Liveles 5-7
A live and video performance suite imagining our world in a future timeline which covers 1500 years. The landscape of this future world—its denizens, artifacts, and culture—provides both a site for considering new realities and alternative histories, unfettered by the current social order, while serving as a distorted lens aimed at our present in keeping with the tradition of dystopian science fiction.

The piece is scored by original music ranges from long form experimental scores to reworkings of pop songs originally in English which are translated into Spanish and radically changed to reveal abstract timelines and narratives from within this speculative fiction. These songs are scored by XUXA SANTAMARIA, my music project with Matthew Gonzalez Kirkland.
Stills from Echoes of a Tumbling Throne (Odas al fin de los tiempos) Livel 8: COOERPOH A COOERPOH, 2016-2017
Once a god, having achieved the singularity, the yt man RayKay_16 is now an irradiated pariah and seeks to be mortal again at any cost.

Echoes of a Tumbling Throne (Odas al fin de los tiempos) Livel 8: COOERPOH A COOERPOH and The Kingdom is Me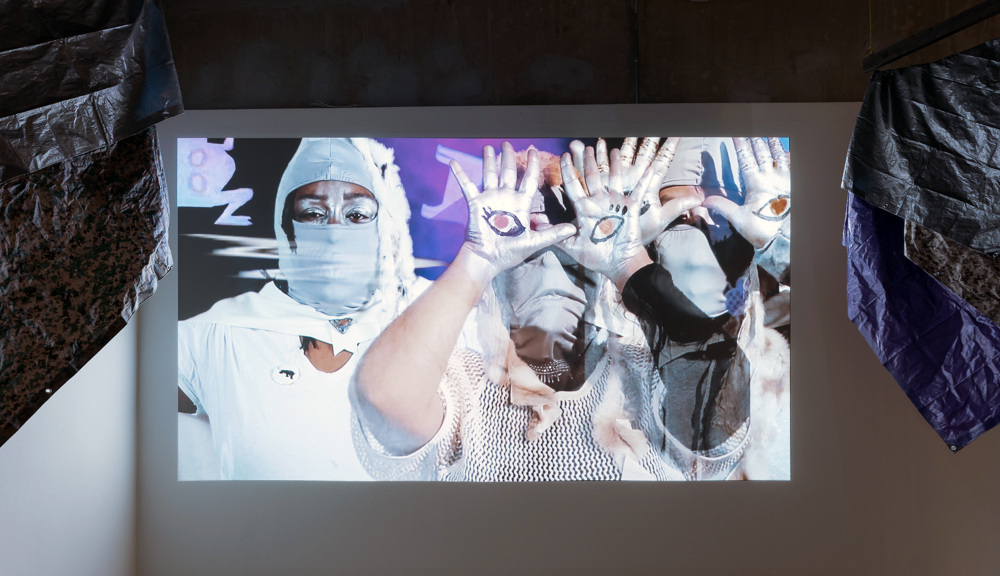 Selections for SIGILOS

Excerpt from Echoes of a Tumbling Throne (Odas al fin de los tiempos) Livel 8: COOERPOH A COOERPOH, 2016-2017
Three apparitions based on cargo cult inspired interpretations of Santeria's Orishas conjured up to examine the role of myth-making and spirituality during times of duress.
Excerpt from BILONGO LILA: Nobody Dies in a Foretold War
Stills from Echoes of A Tumbling Throne (Odas al fin de los tiempos) Liveles #1,2,3,4, 2014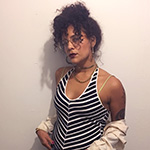 Born in 1985 in Carolina, Puerto Rico and currently based in Oakland, California, Sofía Córdova's work considers sci-fi and futurity, dance and music culture(s), the internet, mystical things, extinction and mutation, migration, and climate change under the conditions of late capitalism and its technologies.
She first moved to the US to attend the early college program at Simon's Rock College of Bard in Great Barrington, Massachusetts. She completed her BFA at St. John's University in conjunction with the International Center for Photography in New York City in 2006. In 2010 She received her MFA from the California College of the Arts in San Francisco. She has exhibited and performed at SFMOMA, Yerba Buena Center for the Arts, the Berkeley Art Museum, the Arizona State University Museum, the Vincent Price Museum, and other venues internationally such as Art Hub in Shanghai and the MEWO Kunsthalle in Germany. She has participated in residencies at the BAVC in San Francisco, Arteles in Finland, Mills College Museum in Oakland and the ASU Museum's International Artist residency in Phoenix. Last fall she produced a new suite of performances, videos and sound compositions in Spain in an artist exchange supported by Spanish embassy in Washington DC and the city of Málaga, Spain. Most recently she was an artist in residence at The Headlands Center for the Arts.
Her work is currently featured in the latest edition of Bay Area Now at San Francisco's YBCA. It is also part of Pier 24's and The Whitney Museum's permanent collections and has been the subject of a First Look feature in Art in America.
She is one half of the music duo, XUXA SANTAMARIA. In addition to discrete projects, performances, and albums the duo collectively scores all of her video and performance work.

Sofía Córdova is a conceptual, interdisciplinary artist with a focus on performance, music and video from Carolina, Puerto Rico. While the specific interests of her practice and how they're made manifest in the work vary greatly. In the past she's materially and conceptually employed pop music, science fiction, taxidermy, prepper culture. Her work is at its core interested in: the future as a site for alternative histories, climate change and colonialism, the contemporary conditions created by late capitalism and its technologies and the mythic and mystic mechanisms our species employ in making sense of the unimaginable. While remaining ambivalent about whether humans can be redeemed and survive in the face of a changing earth, she sees the future, despite the dystopian undertones of the work, as a site of possibility. The work asks: what forms of liberation lie in clearing the decks and starting anew for those bodies whose lives have historically been predicated by the violence of marginality?
&nbsp