7 Mixed-Media Images
Artist's Statement
I am a Queer African-American male of Gullah descent from Savannah, Georgia who now resides in the San Francisco Bay area. I received my B.F.A from Georgia State University in Atlanta, GA and my M.F.A from the California College of the arts. My work is a multidisciplinary mix that uses various textile traditions and dying along with new media to depict my shifting identity. I make work that questions what it means to exist within a queer ethnic body and how does the weight of colonialism obstruct the actualization of the self.

My current body of work uses the digital manipulation of imagery and production as a modern black mirror of divination a way to reveal both my internal identity and examine the obscured desire of others. Through heightening of visible color and compression of both physical and conceptual space, I examine the overlapping worlds of identity and emotional memory. As a form of self-care and exorcism, my work draws upon motifs within ascetic and shamanistic practices. By using both my own body and those of eroticized images of queer black men I draw the viewer to acknowledge the levels of abjection and otherness associated with them in homonational spaces. Through the creation of altars and shrines, I induct the viewer into a protoformed world an unattainable afro-futurist queer utopia. Space where my body and identity are not fixed or defined by static criteria of proposed identity.

I also question when does the stillness and quiet of nature aid the Black body? Nature ultimately has been used as a tool, and who controls the land determines how this tool is used. The Black body has become through years of outward cultural control, synonymous with both toil and the land but barred from communing with it. Leaving the diaspora defined as only urban, extraverted, and dynamically public in its existence. Thereby forming a toxic industrial cloud that obstructs what it means to exist within a Black body, and disregarding the quiet complex internal lives hidden from public view.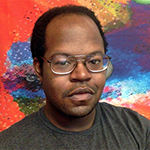 Richard-Jonathan Nelson is a multi-disciplinary artist who uses textiles, video, and digital manipulation to create alternative worlds of speculative identity. His work is multi-layered, chromatically intense and mixes images of the natural world with reference to hoodoo, queer culture, and Afro-Futurism. He uses his constructed worlds to examine the overlapping spheres of culturally perceived identity and the emotional memory of what it means to be a queer black man. Thereby creating a limbic space free from the weighted excepted western cultural reality, and able to examine the unspoken ways systems of power persist.
&nbsp