These poems were written in California and New York. "Versus" reconciles the differences between two towns in Southern California, Fontana and Bloomington, one incorporated and the other not. Each line contrasts elements and characteristics of each. Each line blends. Every "vs." is a line-break that is not a line-break. I think that this poem shows that while we belong to our hometown, we exist and depend on others. "XXXO FM" is what my friends, visual artists, call "box poems," and it contains fragments that are assembled in a way that generates poetry. Or, these fragments create a poem from materials that were not meant to be poetic. I feel that this aesthetic speaks to my identity and upbringing. I am gay, chicano, and from San Bernardino, California. 
Versus
Coyote's neighborhood vs. Imp's. Fontana vs. Bloomington.

More taxes, sidewalks, street lights vs. parties and gangs.
Mechanized Fontana P.D. vs. Highway Patrol in khakis and wanna-be sombreros. 
Parking in the yard vs. the garage.
Fire hydrants vs. roads ending in sky. 
Murky dawn vs. the salivating song of the Ice Cream Man. 
(The loudest thing) Imp playing Call of Duty vs. Chevy Impala playing 
            Kendrick Lamar. 
Sirens, hoots, howling wind vs. growling, purrs, toilet flushes. 
Gas stations vs. liquor stores. 
Feathers vs. chasm.
Chasm vs. feathers. 
Hills vs. fields. 
Fans vs. air-conditioning. 
Blur vs. Atmosphere. 
A clogged sink vs. potholes in the road.
Kids blocking the driveway vs. Fernando leaving the fridge open. 
A power box vs. poles and wire. 
Afternoons of machines idling, humming vs. mornings smelling of dirt.
In both eggs, used cars and blankets sold on the side of the road. 
Go outside to talk on the phone 
            in the cascade of the freeway 
                        houses never buildings
XXXO FM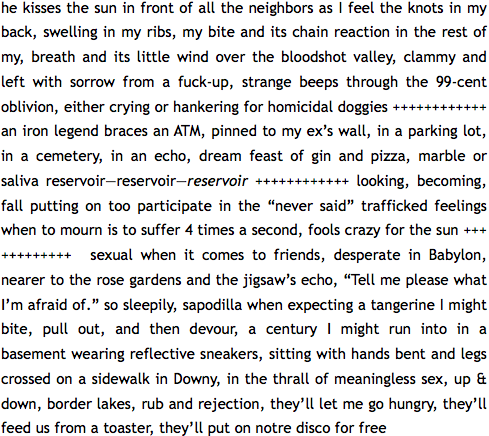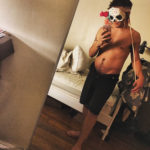 DJ Ashtrae (Joshua Escobar) was the Dean's Fellow in Writing at the MFA Program at Bard College (Class of 2017). He was a Merit Fellow at the Graduate School of Journalism at the University of California at Berkeley (Class of 2016). He is a CantoMundo Fellow. Caljforkya Voltage, his first chapbook, was published by No, Dear/Small Anchor Press last fall. 
&nbsp