Translated by Raquel Salas Rivera
Cuir de extraño

Extraño
para la doña del tren,
para tu mamá,
tu papá,
tu abuela,
tu ex,
tú,
un extraño para ti,
solo para ti.
Un día decidí tragarme la duda,
respirar profundo,
abrazarme
un poco
o un mucho.
El mundo está hecho para ser cuir,
pa' uno mirar su reflejo,
decidir quién vas a ser hoy.
No nací mujer.
Nunca lo fuí,
andando sin camisa en la casa,
escuchando regaños,
pechos pre-pubertos
negándose a crecer.
No hay miedo en sobresalir,
en ser.
No hay miedo en querer ser una pluma más en una boa,
Rosada.
Odiando mi nombre,
queriendo orinar de pie,
queriendo los tacones más altos que me pudiera poner.
Qué alternativa:
LA VIDA
////Queer////
alternativa a extrañar
////queer////
La alternativa:
asumir una identidad
extra.
Bien extra.
Otra vez, en el reflejo
voy a preguntarme, "¿Quién soy?"
o mejor:
"¿Qué soy?"
Una cosa
e x t r a ñ o,
gigante,
llamando la atención.
¿Qué soy?
¿Qué soy?
¿Qué soy?
Nada.
"SOY NADA.
NO PEDÍ ESTE CUERPO.
NO LO QUIERO."
Miro al reflejo.
Salir.
Hay que salir.
Una identidad tengo que asumir,
un nombre muerto.
Eso.
Solo soy un nombre muerto,
las tripas desilusionadas,
revolcadas
se revuelcan.
No entienden que no les toca ser.
No les toca la tranquilidad.
No.
No.
Me niego.
Me niego a vivir así,
a tener que rogar respeto,
a tener que salir,
a ser alguien que no soy.
Quiero llenarme de escarcha,
llenarme de amor,
llenarme de querer ser yo,
llenarme de hacer,
ser cuir,
no un extraño.
Queer as in Strange
Strange
for the old lady on the train,
for your mamá,
your papá,
your abuela,
your ex,
you,
a stranger to you,
only to you.
One day I decided to swallow doubt,
breathe deeply,
hug myself
a little
or a lot.
The world is made for queerness,
to look at one's reflection,
to decide who you are going to be today.
I wasn't born a woman.
I was never a woman,
roaming the house shirtless,
receiving scoldings,
with prepubescent breasts
that refused to grow.
There is no fear in standing out,
in being.
There is no fear in wanting to be another feather in the pink
boa.
Hating my name,
wanting to piss while standing,
wanting the highest heels.
What an alternative:
LIFE
///Queer///
alternative to missing the estranged
///queer///
The alternative:
to assume an identity
that is extra.
So extra.
Once again, in the reflection
I'm going to ask myself, "Who am I?"
or better yet:
"What am I?"
A huge,
shiny,
s t r a n g e
thing.
What am I?
What am I?
What am I?
Nothing.
"I AM NOTHING.
I DIDN'T ASK FOR THIS BODY.
I DON'T WANT IT."
I look into my reflection.
Go out.
You have to go out.
I have to assume an identity,
a dead name.
That.
I am only a dead name,
the disillusioned guts,
tousled,
are tousling.
They don't understand that they can't exist.
They don't get peace.
No.
No.
I refuse.
I refuse to live like this,
to have to beg for respect
to have to go out,
to be someone I am not.
I want to fill myself with glitter,
fill myself with love,
fill myself with wanting to be myself,
fill myself with doing,
with being queer,
not a stranger.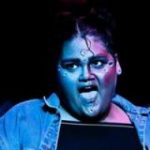 Pó Rodil is a very queer caribbean trans/multi-diciplinary performance artist, anti-drag performer who loves to shine a light on the mind and body otherness.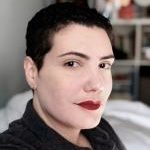 Raquel Salas Rivera is a Puerto Rican poet who lives in Philadelphia. Their work has appeared in journals such as the Revista del Instituto de Cultura Puertorriqueña, Apogee, BOAAT, Círculo de Poesía, Cosmonauts Ave, Waxwing, Dreginald, and the Boston Review. They are the author of Caneca de anhelos turbios (Editora Educación Emergente), oropel/tinsel (Lark Books), and tierra intermitente (Ediciones Alayubia). Their book lo terciario/the tertiary is forthcoming in 2018 from Timeless, Infinite Light. Currently, they are Co-Editor of The Wanderer, and Co-Editor of Puerto Rico en mi corazón, a collection of bilingual broadsides of contemporary Puerto Rican poets. If for Roque Dalton there is no revolution without poetry, for Raquel, there is no poetry without Puerto Rico. https://raquelsalasrivera.com/