Rain
Rain,
It's strumming down
the shingles
as a celestial guiro.
We know this sound Jibaro,
this and the goat's toes
and the splashing
castanets.
Gitano,
it sounds like the first
day of exile.
It plucks as we did
those strings
when we knew
that the poets were
disappeared
forever.
Sephardito,
it's the same
knock
heard for centuries
back to the reason
for Passover.
But,
It's a change from the snow
of troikas
and Cossacks,
It's a change
from the winds
that filled
every sail
from Agamemnon
to the Conquistadors
to under wing
of stukkas
to the whistling caverns,
alleys
and berms.
Sopranos to the bass
of explosions.
Rain,
was it ever in Eden?
Only in the Exodus
the first exodus?
But it's a change
from the arid
the aridity
that turns one
to dance
even when
they can hear
the hooves
and rifles
leaving from cities back east
bound for them.
But it's also
the humidity
the home of mosquito
and malaria
and the weapon
of those
certain places
where no
conqueror won.
Those swamps
and jungles
left to
animal
and aborigine-
Right Jibaro?
Hermanx under plantain leaves
Beside yucca roots
and cane.
Hermanx run off
for survival-
for freedom-
for the homeland.
Hermanx who welcomed rain
just as those
on mountaintop
prayed for landslides
to stop the pursuers
And to make each of their footsteps
unsure.
Rain,
Gitano,
it's never enough
to extinguish
those fires
we made
to eat
to stay warm
to signal our kin
Our family
on Bedouin trail,
in moccasins,
in the rice paddy
Our clan who know
walls are worthless
and legacy
is a story
which only grows
stronger.
Sephardi,
There's a language
as rain
which keeps coming
to sink
Noah
and his chosen animals.
It keeps coming
for those without boats
to drown
those who do.
It's in the Highlands
and in the notes
passed cell to cell.
It's on the street corner
and it's more song
than the drums,
fife and strings.
And Moro,
rain washes
your blood
through it all
so you can suffer
same as you conquered.
Rain washes
your script
away,
takes the faces
off coins
but never turns copper skin
to green
Never makes the swarthy
and olive
welcome
but free,
at liberty
to let the rain
wash the grease
away,
the cooking oil,
the mechanic's fuel,
the lubricants
of guns,
the sweat
of wearing
the wrong color
collar,
Makes the hair
momentarily
straight
as those dashes
between the dots
used to surrender
and plead
for help
and also deceive.
Straight as fibers
crossing on the loom,
As arrows
and oars.
Rain, it erodes mortar and
takes foundation
from the houses
we wish to forget.
It's the ocean
that's never angry
with us.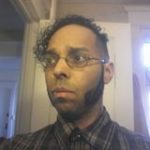 Kenyatta JP García is the author of Slow Living (West Vine Press), This Sentimental Education and Enter the After-Garde.