for father
when baba turns ancestor
will he be as he is now,
or how he was
before quicksand seeped into his brain?

will he be as he is now,
yanking at the locked doors of his car,
quicksand seeping into it. his brain
cursing the woman by his side, the son they made.

yanking at every locked door,
will his indignant howls rattle his grandchildren's grandchildren,
pressing them to curse the women by their sides, the sons they make,
searing each of their mother-seeking-tongues?
or will the howls of his grandchildren's grandchildren
meet, instead, the benevolent statistician he once was, a generous calculator
bias towards each of their mothers. Seeking tongues
to conjure his name, will his descendants sing him out of an exile he chose?
buoy
perhaps
reaching
into
memory
always,
ransacks.
you
paddle,
raging
ocean
gnashes
relentlessly.
escape
slips
suddenly
into
violent
erasure.
apocalypse
pauses
hearing
asmahan's
sighs
in
arabic.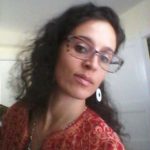 donia salem harhoor is an Egyptian-American interdisciplinary artist. She is Executive Director of The Outlet Dance Project. harhoor is a member of Sakshi Productions and is part of the Brown Girl in the Ring Collective. In 2016, she was an artist-in-residence with Swim Pony. Her poetry has appeared in Sukoon Magazine. She has her MFA in Interdisciplinary Art from Goddard College.