Content not Found
what begins in a thigh. bending the knees appears as prelude to elevation. what begins in a thigh. "Nobody has ever mentored me, not even when I was a child!" (George Enescu)
beat(ing), positive or pejorative: in a wind's blow, I'll beat you to death, batt(u)allia, blowing up the lake to stir the fish, a time when mountain cocks flap their wings to mate, tapping the ground with your foot then jump etc
all possibilities came down to one: the inevitable. look at the hen tapping. hold it, hen, I'll cut you: crescendo, tremolo, martellato, flageolet, pianissimo.
"as early as in 1669, Raoul Feuillet came up with the first choreographic notation. he proposes a basic notation of steps, the gait direction and the figure sequence. there are no indications regarding the movement of the arms or of the upper parts of the body." (Dancing in the 20th Century, Isabelle Ginot, Marcelle Michel)
*
[Aurora sees the old woman's knitting needles tapping a 2/4 measure. it gradually turns into a charming waltz in 3/4. break. a cry in pain. Aurora is bleeding. eight 4/4 measures, very wide. Aurora starts to dance and gets dizzy. people are amazed. Aurora twirls as if bit by a tarantula, then suddenly collapses.] [and nothing could have come out of their cry. a coral reef formed around her neck, jewels, so precious any other necklace would be imitating its art. when she opened the mouth her teeth were blunt, like a sea mammal's. only swans carry such defense camouflage.] [swans – broccoli. in and out of water. neck under, they are like a silky bouquet. broccoli. who would touch a submerged swan.] [she pulls the leash; the animal gets out. it wags its tail at her feet, moves around the fallen skin. devilish skin, a sea devil. she takes it in her arms. her body smell wakes the animal. the beast begins to wash her, unnervingly. she lays it down and heads to the horse. the horse's huge head, eyelids half-closed. the smell is there. millimeter by millimeter, an eyelid opens. the horse chews the skin, then desires to be lifted. man positions himself under the animal and lifts it. they prance synchronously, then let the skins drop.] [let's turn our attention from legs to arms. (…) the art of gestures is crammed in between margins too narrow, for great effects. (…) what is lost at the level of legs will be found at the level of arms. (…) the body is no longer a way for the soul to escape; on the contrary, it gathers around it.]
*
"I wish I could fly, to see with my own eyes things hidden underground!" (George Enescu)
what helps you be in flight fly? air: a mixture of gases that form the lower layers of atmosphere, indispensable to aerobe organisms. under ground, memory contains every gesture.
for now, we limit ourselves to events on earth:
"We bind sheaves on fields,
with sweet wine in a jug
Tra la la la la la la la la la la la la la" (Romanian Rapsody no. 1, lyrics by Georgeta Moraru, music after George Enescu)
*
in an atmosphere of calm and normalcy, no horse touches ground, dead leaves are pulled out of their hooves daily. wherever they go, the grass they collect fills the stable. their muscles firm more and more every day and, if you touch them, you feel the warmth of a body in motion.
when they're groomed, a rope is tied around both sides of their bodies. when they want to laugh, they raise their back hooves and keep them up in the air. you need to quickly sit them down and caress them. you ask something, they thump out a tune with their front hooves, until you stop talking. our heads touch in this silence. they lightly ruminate through my hair, the air they breathe out smells of hay. nothing is similar in getting close to them and other animals. what happens in the space where the huge muzzles breathe has no cognitive memory. thus, Green Beam is about to foal. she fell in love with a Hungarian horse. as a sign of appreciation, they put a Romanian flag in his stable.
it's not an unnatural posture – the tips of the legs facing outside, in a rotating forward motion, that begins in the thigh, engaging the entire leg. with every song coming from the speakers, the horses keep the music going. they dream of treating it as a material, like lights, cinematic projection or dance.
*
"like the algae on the bottom of the aquarium, lunatics move in front of the world's sad people, who notice them full of remorse." (Bernard Castelli)
welcome to a storage space of gestures. they are collected from living bodies. one lies down, another jumps, a third twirls, then ideas start coming.
"at some point the author stops, angrily pounds the table and shouts at the singer: ʽc'est faux!' ʽit's out of tune!'"
such shock!
the player retorts: ʽit's not out of tune in the least bit.'
ʽisn't it? I can see la here and you are playing sol!'
ʽit's the same!'
ʽwhat do you mean?'
ʽit's your chord that's out of tune, it sounds dissonant! it contains both sol and la. it means I can choose. I prefer sol.'
ʽand yet, it's la! the author insists hopelessly.
they left it at sol! and they went on. (Alex. Cosmovici, George Enescu, His Music and His Family)
*
you come out of a wound slowly. if you think of it, without it.
you bend your knee and force your foot over the tip.
your identity fuses with your parts.
your identity fuses with the group.
you come out of a wound slowly.
the exit gives the body a voice.
"a quote (cognate with quota) is a cut, a section, a slice of someone else's orange." (Anne Carson, Decreation)
she creates the things she hears
who controls danger
stepping in your own text, sliding into your own subject, without any clear proof about what is factual and what is fictional. who acts upon S? the horse, for example, must be helped. the actor has not become his character. the actor must be hit by the horse to really cry. the domesticated horse must be shoed.
*
the room is changing: the more an object lies inside itself, the livelier its outside throbs. I'm not changing anything, a hole deepens on its own. details get mixed up and frequencies become unstable. what can we believe in?
(id)entity of rain: if the rain stays where it falls, it would form a layer of a certain height
"it is not advisable to repeat art forms. each work must have its internal origin, free from the formalism
of a conception that we thought (or really was) successful on another occasion." (George Enescu)
*
it is not nice to quote from a body.
you have captured: a finger
the rule is: to startle the palm
with one glance
I hold my self in all the elements that make me.
*
today: in the museum yard, Red comes out to onlookers in his funeral garment. an army of flies dance
around his head. his muzzle is closed for ever, sealed by black ashes. Red, Red – the programmatic character of its symphonic suite.
even the passers-by watch him with no reaction. Red is the most beautiful colour, "those odd sounds in nature, the swish of leaves, the tumult of swirling waters after a brief storm, the birds' chirp, the larks' concerto – it carries our thoughts to the house in the forest of Tescani." (Enescu Today by Viorel Cosma)
in the afternoon, the one dead is resurrected by the indifferent passers-by, who lie about never having had any dead of their own. Red is deathless. Red, carried in a wheelbarrow and buried by the priest-guard-stoker-museographer-artist-friend-of-all-positive-and-negative-dead-or-alive. "Voix de la nature is a substance of unmistakable mioritic essence, a poignant Romanian ethos." (Enescu Today by Viorel Cosma)
you can't see those passers-by anymore, with their heads bent and fallen shoulders, their dull color, their stained color. Red hits the piano keys, using a "whole arsenal of musical means, from heterophony to modal climate." Posthumous in Red! Posthumous in Red!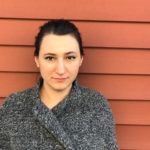 Anca Roncea, poet and translator. She is a recent graduate of the Iowa Writers' Workshop and is currently attending the University of Iowa's MFA program in Literary Translation. She completed her undergraduate education at the University of Bucharest in Modern Greek and English followed up with an MA in American Cultural studies. In 2012-2013 she was a Fulbright visiting scholar at UC Berkeley. She was born and raised in Romania and now lives in Iowa City where she writes and translates poems, working on an experimental translation of Tristan Tzara as well as her first book of poetry. She explores the space where language can create pivots in the midst of displacement while incorporating the aesthetics of Constantin Brancusi. Her work can be found in the Berkeley Poetry Review, Beecher's Magazine, and the Des Moines Register.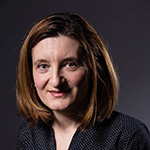 Monica Manolachi is a poet, translator, editor and lecturer at the University of Bucharest. She is the author of three poetry collections, Joining the Dots (2016), Fragaria's Stories to Magus Viridis (2012) and Roses (2007). In 2016, Antologie de poezie din Caraibe received the Dumitru Crăciun translation prize at the Titel Constantinescu International Festival of Creative Writing, Râmnicu Sărat. In 2017, her study entitled Performative Identities in Contemporary Caribbean British Poetry was published by Ars Docendi, Bucharest. As a researcher and critic, she often delivers presentations at literary conferences in Romania and abroad.