The Nine Steps of a Tap Dancer
An Ode:
I.
He said: Who knew Tap Dance
was the poor man's ballet?
I said: Fuck That!
Ballet is the rich man's Tap Dance.
II.
It is the ankle's gift to
ancient languages.
Indentured Morse code left
like a crying howl of dust.
III.
Busy, battered, shoe,
leather, ghost, gospel–
Turned articulate prance of freedom.
Make Massah
teach you English just
to explain what you do
with your body.
IV.
Our eyes, wide as
Communion wafers
greedy and applauding
as the Knuckles
at the back of his feet
snap the ground like
a thousand startled
bear traps.
V.
These Negros hop & skip
like spineless tornados.
I think I can sell that.
Toothpick toes tailored
to a lightning bolt.
Empty belly mischief.
Hungry man's waltz.

VI.
In the boom of bootleggin'.
You gotta make a living, to live.
Hoofing on water,
Holy-Holy cross' a river of sweat.
Dance–Black-Face–Dance.
VII.
Shoelace, yawning blood.
Swollen last supper
feast eat bible-
thumping sugar foot.
VIII.
Watch:
When God finally comes back–
Who you think she wanna be?
The toes or the sole?
IX.
When skin looks like
a million shades of dirt.
You do what ever it takes
to make the ground
remember you.How a ngh be ah ngh in ngh compa'ny but don't feel lik ah ngh no mo' –Pt 2+3
O! –so ah think about my mother sometimx / an how she would feel being dis blk / around company / her son lovin dis life now / cuz he got company in blk folk arms / an he know now / dis be Trinidad on a day like today / dis be America on a dare / an dey don't know how to handle us ya'll / so we write all our feelings down / tell dem look / you can come close but there is ah machete in my hands / you might get cut / we might gon bleed together / come on / lets chop it up / lets talk-about da real real lets talk-about dat dirt dirt lets talk-about how we get put in dirt / under dirt in fingernails / ah see dem clawing their way up out da grave of our mouths.
O! –so dis be church / an jesus / look how many me around me / an ah don't know wat to do wit dis love / ah mean ah seent it / in my imagination / but ah ain't never seen it out my eyes unfoldin in front of me lik ah turnt up tapestry of history / ah did not know dis should exist / lik come on / we alive in dis mothafucka / an ah hug you cuz ah hug you cuz ah don't know when ah might see you again / jesus christ / ah been hugging things    sometimex for all the long reasons / im just tryin to feel skin dat ain't mine / just to feel skin dats mine.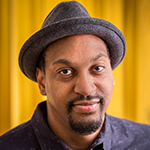 Rico Frederick is an award-winning performance poet, and graphic designer. He is the author of the book Broken Calypsonian (Penmanship Books, 2014), Poets House Emerging Poets Fellow, Cave Canem Fellow, a MFA candidate at the Pratt Institute and the first poet to represent all four original New York City poetry venues at the National Poetry Slam, (2010 and 2012 Grand Slam Champion). His poems, artistic work, and films have been featured in the New York Times, Muzzle, Epiphany, No Dear Magazine, The Big Apple Film Festival, and elsewhere. Rico is a Trinidadian transplant, lives in New York, loves gummy bears, and scribbles poems on the back of maps in the hope they will take him someplace new