The Bride's Goodbye
In Indian weddings, crying brides are part of the affair, an unofficial rite. After the chunni has been tied and the fire has been circled, there is one last ritual. The vidai it is called, the bride's goodbye, where the bride bids her family farewell –that's usually the cue for tears and heartfelt embraces of a mother, a father, sisters or brothers. Of course brides are not obligated to cry, but it kind of seems like we have to.
There is a picture of my mother like this at her wedding. Even though she had a love marriage, she seems devastated. I find the shot midway through my parents' modest, clothbound wedding album. There is a crowd of people around her and she is unabashedly clenching on to her sister fiercely, both of them crying, ugly-crying, faces twisted wet streams; this is followed by another where she is hugging her brother, he too is crying uncontrollably. They all seem so young, all the women hairy-lipped and the boys but barely mustached, too young to pretend or posture for a camera. She is seriously leaving home. Not too long after she would be leaving the country for good. This moment carried over to first-generation weddings but as one of my cousins once confessed, the tears are moreso just fatigue that can pass as fond emotion.
Who is this crying woman, I don't know. "How is your mood now?" my mom will ask me most often after I cry. Tears are symptoms, like a scratchy throat or lingering cough. "Better, my mood is better," I will say, which means, "I have stopped crying. I don't need to change antidepressants."
She and my father, as well as my two older sisters are doctors by trade. Medicine was what brought my parents together, they met in medical school and medicine is what carried them over here; their passage to America was made possible by the 1967 Immigration Act, through which those with scientific training were allowed to enter the U.S., Asians entering in unprecedented numbers.
By the time I came into the picture, my parents had already made it. My sisters often joke that they were of the generation that ate out of Campbell's soup cans and got stuck in stalled cars with my parents while, a decade later, my newborn body was chauffeured home in my Dad's brand new Mercedes. I threw up in it.
Even now, status and medicine forever orbit my family, pulling at the tides of our speech. "You need to get a Mercedes of a dress," my mom would say to me so often when we went bridal dress hunting. And when I seemed annoyed as we hunted, "Why so much tension? She has much tension, this one," as if giving her official diagnosis to anyone who was interested. Soon the entire staff of bridal shops, Indian mom-and-pop shops in our Central Jersey town would be buzzing with these terms, "so much tension" for this "Mercedes dress," like dutiful worker bees.
Edison, NJ is a kind of mecca for Indian bridal shopping. If a bride doesn't go to India, she will go to Edison. When my parents moved there in 1987, the town was mostly white. When my eldest sister got married, in 1999, there was just one Indian wedding planner/vendor to use. But by the time I got married, the competition was stiff: so many Indian wedding-supporting venues, wedding planners, horse rentals and flower garland-makers. Even the white businesses in the town knew all the customs and rituals, perhaps even the unofficial ones, what were the Mercedes items, the sources of tension and all other things that could incite ceremony-worthy bridal tears.
A decade earlier, it was not the language of medicine but the language of spirituality that was used to understand my non-bridal tears. Coming home from my first year in college, I had spent a whole summer crying over a breakup. The tears came out like a bloodletting, the break up hitting some vein that ran deeper than the young blond boy. Some days all I felt I could do was rock and cry in my bed. "You have a bad star," my mom said and she took me to see a priest.
We were in his shabby quarters in our Little India, just above a sandal store. The priest put a ring on me. This was the first time a man had slipped a ring on me. It had a metal that was supposed to heal me, with the added benefit of his prayer. As he began to pray over it, my mom stepped outside to make a call. The prayer petered out and in the awkward silence the priest took me in his arms and whispered in my ear. "You have not been loved properly." He raised my chin up to his and kissed me.
I kept the ring on for a few days and when I could not stand it anymore, I took it off only to find a green stain there. I don't remember if I told my mom about this. I don't know if I considered it important or speakable. I never much wore rings after that. I wasn't into jewelry I'd say, even prior to this visit and my imminent diagnosis of bipolar disorder. Jewelry was always a violent thing to me, priest or no priest. When my mom would give me jewels for family weddings, taking a vicious tone about their cost if I ever were to lose them, I would wear them for the day nearly nauseous with their weight and the pinch of the clasps that held them in place. And I remember grimacing at my grandmother's earlobes stretched open like little howling mouths under the strain of pure Indian gold.
During the time of my wedding, I did not consider myself much of a "wedding person," which to me meant not really into jewelry, dresses or any other bauble-licious part. Still, I disliked and fretted over much of what was shown to me. Why the tension and tear-shed though I could not say.
Once my mother and I went into a bridal store. I was tired, tired from walking around all day and sore from another big weight drop in my journey to hit my "wedding goal weight." A girl walked in, a thin wisp of a girl. She was getting married too. She seemed spry, no tension. As she breezed through the racks, my mom admired her and I did too. She said she had bought all her bridal outfits online and was just looking around. "Looking for something for the groom," though in her hands was a set of saris — not like a fashionista, just having fun. Her husband-to-be was also American, a white American, and not too long after that day they would be married somewhere else, a destination wedding, a beach, and it seemed as if she was already there.
I was not like her. That sandal store was still on the corner. Everything felt like a green stain. 
Author Statement
Almost every day of my married life, I wonder why I went for a very large and traditional South Asian wedding ceremony. It's not me or my husband. But I realize too, that was the point. My husband is African American and I'm South Asian American. At the start, my family was not accepting of our relationship. When we got not only to a better place but to the point of marriage, I wanted to go big. But, as big as this vision was, I did not anticipate a reckoning with the sacred and all its contradictions in the diaspora.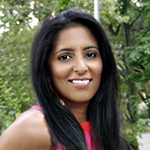 NINA SHARMA is a writer from Edison, New Jersey. Her work has been featured in Longreads, The Grief Diaries, Banango Street, The Margins, The Blueshift Journal, Teachers & Writers Magazine, The Asian American Literary Review, Drunken Boat, Certain Circuits Magazine, The Feminist Wire, Reverie: Midwest African American Literature, and Ginosko Literary Journal. Her essay "The Way You Make Me Feel" won first place in the 2016 Blueshift Prizes for writers of color, judged by Jeffrey Renard Allen and appears in The Blueshift Journal's Brutal Nation feature. She is formerly the Director of Public Programs at the Asian American Writers' Workshop and with Quincy Scott Jones, she co-created the Nor'easter Exchange: a multicultural, multi-city reading series.