from the refusals of eschatology
for J.J. Hastain
1.
is it possible that pheromones track location like that biblical saying; "faith without works is dead?" is it possible for something to appear from nowhere? i'd like to refer you to the natural process of life arising from molecules containing carbon. biopoiesis?
algal blooms, water, everything is cellular—recedes—comes from nothing.
snakes shred i mean shed in one piece—modeled, thin, cloudy skins. a pale, blue-white with scales.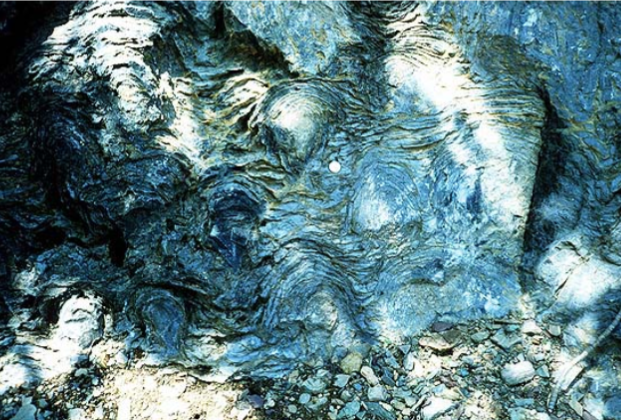 P. Carrara, NPS — National Park Service
2.
snakes travel great distances to chase tail. i want to shake you naked and eat you alive. i want to swallow you whole and learn all the impossibilities of depth perception. some snakes return to the same den year after year to nest in large groups: an inclusive bed.
climb into me, you will find my vagina a soft and infinitely prolific place for you to lay your head.
3.
what happens next?
molecules listen, cup up against, reproduce, couple, populate: some vowels grow over time. a transmutation of cells, a place for gathering, an opportunity to edit, become something else. 
4.
an ovary can grow legs over time
gather body, gather sex
surround muscle, in limbic motions
                                                                                    appear starward 
5.
stretch into the multitude of geography, over time a direction becomes a system of information large enough to hold you, safe enough to edge muscle, press bone—grow fur.
6.
the tops of all of the tulips are walked on and bent from breathing
between symptom and educated guess
housing a seed, a coat, an extension of skin awaiting extraction.
Mg Roberts is the author of the poetry collections Anemal Uter Meck (Black Radish Books, 2017) and not so, sea (Durga Press, 2014). She is a Kundiman Fellow, Kelsey Street Press member, VONA/Voices Alum, and sits on the Board of Small Press Traffic. Her work has appeared in Dusie, Bombay Gin, Web Conjunctions, Elderly and elsewhere. Currently she is co-editing Responses, New Writing, Flesh with Ronaldo Wilson and Bhanu Kapil; an anthology on the urgency of avant-garde writing written for and by writers of color. She lives in Oakland with three daughters, two hens, one puppy, and geologist husband.