Untitled
God of sweat and mud and rain
God of ashes resurrected
God of angels—feathered, near-naked glimmer
God who casts our souls in fishnet
God of scandal
God of wine
God who gave us bacchanal
God of one-more-day 'til Lent
God of a love-beaten roadway
God on stilts
God who carries the Spirit in her garment
God's baptism in a river of revelers
God makes a rolling sea of waists
God among us as woman and man
God of soil
God of High Mas
God of mortal burdens cast on city
God of Amen let it be
God of lost reason & birth
God of a garden in riot
God of ragamuffin
God of royals
God of buxom Dame and blue devil.
God of longtime, of ancient
God of still here.
God of new
but always ours
God of revelation in mask
God of sacrifice and offering
Goddess pose, hips opening
God of omniscience and sky
God of sunlit skin
God of dust that shadows foreheads
God of a fast broken, then entered
God of farewell and beckoning
God of because we can
God of because we must
God of Our Lady and sinners
When I Have Left My Body
In order that every appearance of pantheism, naturalism or nihilism be avoided, it is not permitted to scatter the ashes of the faithful departed in the air, on land, at sea or in some other way, nor may they be preserved in mementos, pieces of jewellery or other objects.
-Holy See declaration
Bury a seed amidst the dust of my bones.
Each artery that branched
along my limbs
will be razed to ash and soil
sprouting a tree.
But first,
make fruit of my flesh
Take my skin to the burned,
my eyes so someone might see.
Why should I not scatter
my ribcage in soot, free my heart?
–A chance to beat again. This is my body
which will be given up for you.
This is what I was shown:
how to abide as branches to The Vine.
I want to go
where there is no need for a church,
no yearning for a collected body.
Can I find new life if I lose myself
in the roots of an unborn seed?
leaves that bear breath to a dying
girl. Give her my lungs.
Give whatever you can;
All I was taught I could be
was dust.
Let my flesh be entombed only
in another's breaking ribcage.
Let the plant grow.
Let a young woman
unwrap the shrouds of death,
fold them neatly at her bed's foot.
Let doctors witness her open her eyes, awaken
out of her anesthesia valley, proclaiming,
softly,
she is risen. 
Author Statement
Both of these poems stem from the Roman Catholic influence in my native Trinidad. Being raised Catholic, there are so many rules around what we can do with our bodies, even when we die. I find myself trying to exert autonomy but being afraid to offend the Church by doing anything "too pagan." That is where "When I have left my body" comes from. "God of sweat and mud and rain" examines the many cultures of Trinidad that are present in Carnival. Slaves making the festival their own, bringing African influences into the mix, I think was a kind of quiet resistance enacted against the French slave masters who brought Carnival to Trinidad. It also reminds us that Carnival—like Easter and the Winter Solstice—was originally a pagan ritual before the Church repurposed it.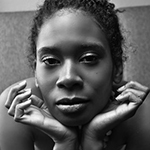 Daria-Ann Martineau was born and raised in Trinidad and Tobago. After earning a BA in Speech and Hearing Science from The George Washington University (DC), she saw there were more interesting ways to understand language. She now holds an MFA in Poetry writing from New York University, where she was a Goldwater Hospital fellow. She is an alumna of the Saltonstall Arts Colony and the Callaloo Creative Writers Workshop, and the Bread Loaf Writers Conference. Her poetry has appeared in Narrative, KinfolksQuarterly, and The Collagist, among others.