Testimony
They invoke your given name—
call on you, a witness,
to take the stand so they can ask what happened as you see it,
all attention settled solely on you as you approach the hot seat
thus creating a deafening silence, locusts in their eye sockets,
a plague set upon your body, your skin crawling, trying to crawl
away from race.
Once seated, you submit to the traditional
procedure: left hand on the bones of God, right hand to the sky.
You take oath, or you send a prayer straight into the salted earth:
same difference. They point their questions like pistols and you
pull answers out of the pockets of your memory; say what you say,
it isn't gospel to anybody in the room, and even you can't be sure
you haven't lied to yourself. Even in saying the Lord has been good
to you, they will press on how good, will insinuate it wasn't good
enough to stop you from doing what they said you did that night.
But when He sees you through the trial and tribulations like an X-ray
or ultrasound, you'll be forced to testify all over again, go on about
deliverance despite your doubts:
when Pastor asks for a witness,
you'll give him a witness; you'll catch the Spirit, take to the choir stand.
Logos
As the street-side window decal reads,
Where the Word is the Word
the Word is bond like mortar is to bricks
if talking black to black,
brother to brother, sister to sister
and so forth (amen).
Because boys like me don't rise
of their own accord save for
the Savior, I'm raised instead
between these oven-like walls,
anticipated to behave as bread does
while it's baking (amen).
Hands make the metaphor make sense:
how anointing works is by touch
as is how dough is made
from scratch, but that's beside
the point of this place;
a name isn't just a name,
there's always a ghost behind it,
an instruction for living (amen).
In the face of everything we face
in Chicago, America,
God is the logical response,
hence the Greek is borrowed from
for this as with the letters
of all our frats and sorors.
Bring your sorrows here.
Bring your skeletons here.
We've crossed bridges of blood
thrice over and now this
is what we have to show for it (amen).
It may be hot as hell in here
some days, but it's cold as hell
outside, in those streets:
cold case (amen) after cold case (amen)
after cold case (amen) though the killed
and the killers are all known
and loved above; we all know
an excess of fire feels like
being engulfed in ice, what we learned
from all our scrapes and all our bruises
all over our bodies (amen).
So, take this book to heart.
Study it good. And remember,
when the church says amen,
say amen (amen).
Catfish Heaven Variation
I've heard it theorized before that heaven has ghettoes, favelas,
        shantytowns and such, and should speculation so happen to be true,
I give praise in advance for I know none of the aforementioned
        to exist without colored peoples to people them homes: havens for
the culture from music to cuisine, all things that cleanse spirits
        like river water.
                                           O Lord, on a good day and a bad, give me all of
my niggas. On a good day and a bad, give us all the fried things
        that send our bodies straight to hell but make the glory shine
even brighter inside us, vessels of the gospel according to grease. Every
        human being comes from a hole in a wall, it's just that
some of us are better about embracing it—
                                                                                    the food is always going to
        taste better where folks are most thankful for it. It was
said the meek shall inherit the earth, but I say the meek should also inherit
        the meat: batter the bits in powders and spices then let
the oil and the fire do their work.

Give it up for eloquent hands taking birds beyond abstract
ideas or metaphors, turning them into things we can consume; give it up for
generous hands that give us fish because we're hungry and
in need of grace:
everyone requires reminder of what and who's gotten
them through, who and what they can place their faith in.
Let's just say I've got myself a circle, a divine constellation of personalities
around me, the ones who pass the hot sauce when I ask
and don't make me reach for it.
I can't figure out most days if love is too big
a word or too puny, but I know when I die, I want to have
this moment back as many times as I want without worrying over weight or
blood pressure. People may eat for the body, but they cook
for the soul—
so we buy more strips of catfish, we put in another order for
wings, get lifted in a legend nobody else can ever grasp past
my inability to define miracle without using miracle, my failure to explain
this isn't myth because I was there, with them, and couldn't
shake anyone else's hand for a week.
Author Statement

Love in the face of indifference; healing in the face of violence; jubilee in the face of injustice; community in the face of isolation; music in the face of silence; blackness in the face of white supremacy; history in the face of ahistorical interpretation; truth in the face of lies; God in the face of his self-serving children: when the nation I am given gives me nothing to hold dear, to steady my sunniness and hope, I imagine other nations. I make home in sovereign moments where there were no degrees of separation between freedom and myself.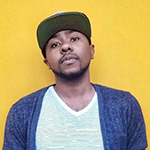 Cortney Lamar Charleston is the author of Telepathologies, selected by D.A. Powell for the 2016 Saturnalia Books Poetry Prize. A recipient of fellowships from Cave Canem, The Conversation Literary Festival and the New Jersey State Council on the Arts, his poems have appeared in POETRY, New England Review, Gulf Coast, TriQuarterly, River Styx and elsewhere.