Six Feet
Cough into your elbow.
Shelter your skin to your skin against
the words you breathe in.
Chinese Virus.
Yes, I know it hurts. The swollen blaze of marrow. Your lungs
sliced apart like filleted fish.
Breath scraping up tender tissue—desperate
to stay in your body.
Keep exhaling into the inside of your elbow.
Your skin there is soft enough, the crease deep enough.
The warm steam of your breath
will return to your lungs.

The six feet between you
and them
has always been there.

Keep your mask on.
The one with soft cotton on the inside
and a dinosaur print on the outside.
Who can be afraid of a child wearing an orange brontosaurus?
(They will be afraid).
They will put forefingers to the corners of their eyes and stretch
a slant to their eyelids.
They will spit at you—spittle slick with fear. Chant
yellow, yellow, yellow. Stab you, burn you with acid.
Break your home into spirals of shattered glass.
The virus is not the one we think we know.

Wash your hands.
Not because you are dirty.
You are not.
You are not dog eater, chink, dangerous, diseased.
You are not.
You are the child who runs so fast your body shakes
like a wind-whipped wave and nothing can catch you.

Bring my love nearer
than breath, deeper than skin, close as your heart.
And even then—my love
will not protect you
in the ways you or I
think it will.
We are all guessing—
at the distance that will keep us safe.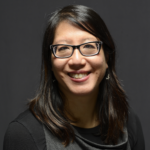 Diana Ma is a Chinese American poet and author of young adult books. Her poetry has been published in Calyx: A Journal of Art and Literature by Women and The Asian Pacific American Journal. She has an MA in English with a Creative Writing focus from the University of Illinois, Chicago and a BA in Creative Writing from the University of Washington. She lives in a suburb of Seattle and teaches English and Humanities at North Seattle College.
&nbsp