The Egyptian
You poor tamed cat, what did
the Egyptians do to you,
castrating you and your hunting
impulse. So much so, that you,
our beloved pet, are scared of birds,
too afraid to go out into the garden.
We made you an object of our own,
brought you plastic toys
to mimic the life you were made for,
so we can cuddle up at night,
stroke your furry neck
as you stretch it out as far as it will go,
until it's not fun anymore
and I'm tensing up and shifting my body
and you, annoyed, start biting me
in quick, sharp bursts before you leap off,
ears twitching, shaking off the humiliation.
My cousin once asked me why
we adopted a common tabby, an Egyptian
as they call it, instead
of a longhaired Persian. It's good
to know where we come from, I said.
REACQUAINTANCE
It is surreal being here with a husband and a baby.
Coming back to the country I've returned to over the
years, gazing into the mirrored Damietta dresser, the
one that distorts the reflection so much it prompts
my husband to ask if his head is too big for his body.
Without even needing to look, I say no, of course not,
because I immediately visualise my elongated, spotty
teenage face staring back at me, from when I used to
contemplate my own distorted shape in the miraya.
I line my eyes with kohl,
clearing the smudge on one lid as usual
and wonder how many minutes
of my life I've spent on these
corrections. I glance at myself
and decide I look pretty.
TO ME BELONGS YESTERDAY, I KNOW TOMORROW
From the Egyptian Book Of The Dead
Bake me a loaf
and since bread makes me thirsty,
pour me some wine
even though the smell is rancid.
I'll open a window
as wide as it will go, watch
the man with a hoe
hacking at his front lawn.
Save me a slice
of your rye concoction.
I'll butter it
when I come home.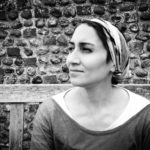 Nashwa Gowanlock is a writer, journalist and literary translator. She has translated numerous works of Arabic literature, including a co-translation with Ruth Ahmedzai Kemp of Samar Yazbek's memoir, The Crossing: My Journey to the Shattered Heart of Syria. Nashwa holds an MFA in Writing from the Vermont College of Fine Arts.