T4T/Same4Same
Somewhere, an opening. Chests. Scars with heart
behind. It doesn't matter who breaks the rib
or takes it. I see the love in myself, so I see the love
in you. Oh, baby. Our passion sips from equal bowls;
bodies baptize in sun-flooded sheets. Divinity lingers
in my dimples and your array of speckles. The cleanest
water comes from: a mouth, a palm, parted legs.
God smiles at the still-sprouting dicks. She promises
to shape us one way until we decide another.
Look. How we've spoken ourselves into being.
Laughter tinkling, followed by a gentle clasp.
Come.
Let's name ourselves with sounds that feel like freedom.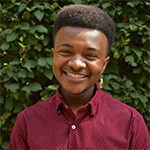 Leo Smith (they/them) is a Black, queer transmasculine poet from Inglewood, CA. They are a Smith College graduate holding a B.A. in English/Spanish with a poetry concentration. Leo's first chapbook, The Body's Owner Speaks, is forthcoming with Black Sunflowers Poetry Press (Summer 2023). Their pieces also appear in Arcanum Magazine. A former Roots.Wounds.Words Poetry Fellow (Winter 2023), Leo's current work centers on race, religion, and queer childhood. You can find them on Instagram @sun.ruled.
&nbsp