Featured in this Folio
Probably Angels: A Preface
To imagine liberation as spirit-deep and inseparable from ourselves, especially in the context of the anti-queer theocracy of Nigerian government, is no light work. I am preoccupied with the possibilities (and constraints) of Self within, among and beyond bodies, beyond identities and the narratives that cling to them, beyond the misperceptions of a cis-heteronormative culture shaped by values of colonialism and Abrahamic religions. Queer spiritualities—as dynamic evolutions and expressions of spiritual freedom—present an avenue for young Nigerians like me to reimagine the stories of ourselves, explore the contradictions in our faith and living, and make Peace, at the core of our being, with who we are.
This folio project was conceived out of a longing to take refuge in Light, in the face of social abandonments and cultural aggressions which seem to reflect the reality as an abyss. But the poets, essayists and artists featured in this folio have crafted hope, yearning and daring; not just outside of this reality, but there in the thick of it, in the danger and little deaths, the uncertainty of whether and when taboos will no longer overshadow queer love, expression and essential being. These writers galvanize the imagination of coping and reclamation; the realization of a Higher Self. They imagine our queer futures, criticize the existing legal-spiritual landscape(s), and mourn our intimate and collective histories. What these works share: fear, beauty, trauma, hope, irreverence, eros—these remind me of the wondrous possibilities which endure in the flesh, in human hours and the burdens we carry through them, which cannot be fled from and must be reckoned with.
If God is Love, and if Love is work (good work, hard work), then the texts and images collected here are rich with that divine presence manifest in language, as they reclaim our places within Christian, Islamic, and irreligious traditions, within and without the patriarchal archetypes of divinity and law. I am thankful to this community of folio contributors for their powerful art and vulnerability, and for their trust and patience as this project has slowly come to fruition. To end with the words of American poet Brynne Rebele Henry, words which have remained with me for many years now, "The thing is we are probably angels." Yes, possibly. We are discovering this, who and what we are, and remembering, also, our birthright within the Light. We are remaking ourselves, or, perhaps, simply remaking God in the diversity of our own scarred, imperfect images.
With deep Love and solidarity to all who are reclaiming the oneness of queerness and spirituality—
Logan February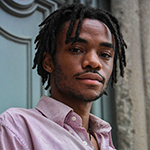 Logan February is a multidisciplinary Nigerian poet. Author of In the Nude (Ouida Poetry, 2019) and three chapbooks of poetry, their writing has appeared in Berlin Quarterly, jubilat, Washington Square Review, Palette Poetry, The Poetry Project's The Recluse, and more, including Dutch, German, Italian, Spanish and Yoruba translations. A Cave Canem fellow, recipient of the 2020 Future Awards Africa Prize for Literature, and scholar of the 2020 Un_Masking Difference web residency at Literarisches Colloquium Berlin, February resides in Indiana. They are an MFA candidate at Purdue University and the Editor-in-Chief of Sycamore Review.