When You Say "Protestors" instead of Protectors
I would call it a trick, if it wasn't so terrifying, the way your mouth doesn't move when you speak. Your smile, shiny as a church, but what kind of prayer could ever be trusted without evidence of a free tongue? On the rare occasion sound shakes loose, words, no matter how unmuzzled, words still go to die. In your mouth, even womb is wound. Sometimes I dream of tearing your throat wide open and finding there, where stories should be born, only bleeding bleedingbleeding. The wish to desecrate. We are, yet again, portrayed by you, the girl the Native the water the mountain who was "asking for it." Your lips so Sunday still. Sometimes I almost believe you. So it's best I keep hiding knives in my hair, the way my grandmother – not god – the way my grandmother intended.
Mercy
This morning I kissed a woman with a brick in her clay hands. I am building a house, she said. Brick in her hands, tongues in her mouth. Somewhere a door ajar. We kissed & I went searching for other bricks she brought this way, one by one in her clay hands. She smelled like a house, the one I saw built from scratch near the water tower in Waiʻehu. Did you find more bricks? I was young, a ten-gallon bucket clanging with nails. Who was I to say what was mine & not mine? Did you find the water tower? Over & over I searched. Bricks in hand. Ready to sleep in the roof of her mouth, ready to build a home and call her mine. Did you find the door you tore open and ran from mine the door you buried in bricks not mine one by one Waiʻehu torn one by one Waiʻehu built again. Memory made from scratch. Did you find me there? This morning I kissed each brick of this woman. Her name was mercy.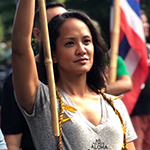 Noʻu Revilla is a queer Native Hawaiian poet, educator, and aloha ʻāina. Her poetry has been featured in Poetry and Literary Hub as well as the Honolulu Museum of Art. Her latest chapbook Permission to Make Digging Sounds was published in Effigies III in 2019, and she has performed throughout Hawaiʻi as well as Canada, Papua New Guinea, and the United Nations. In the summer 2019, she taught poetry at Puʻuhuluhulu University while standing to protect Maunakea with her lāhui.
&nbsp